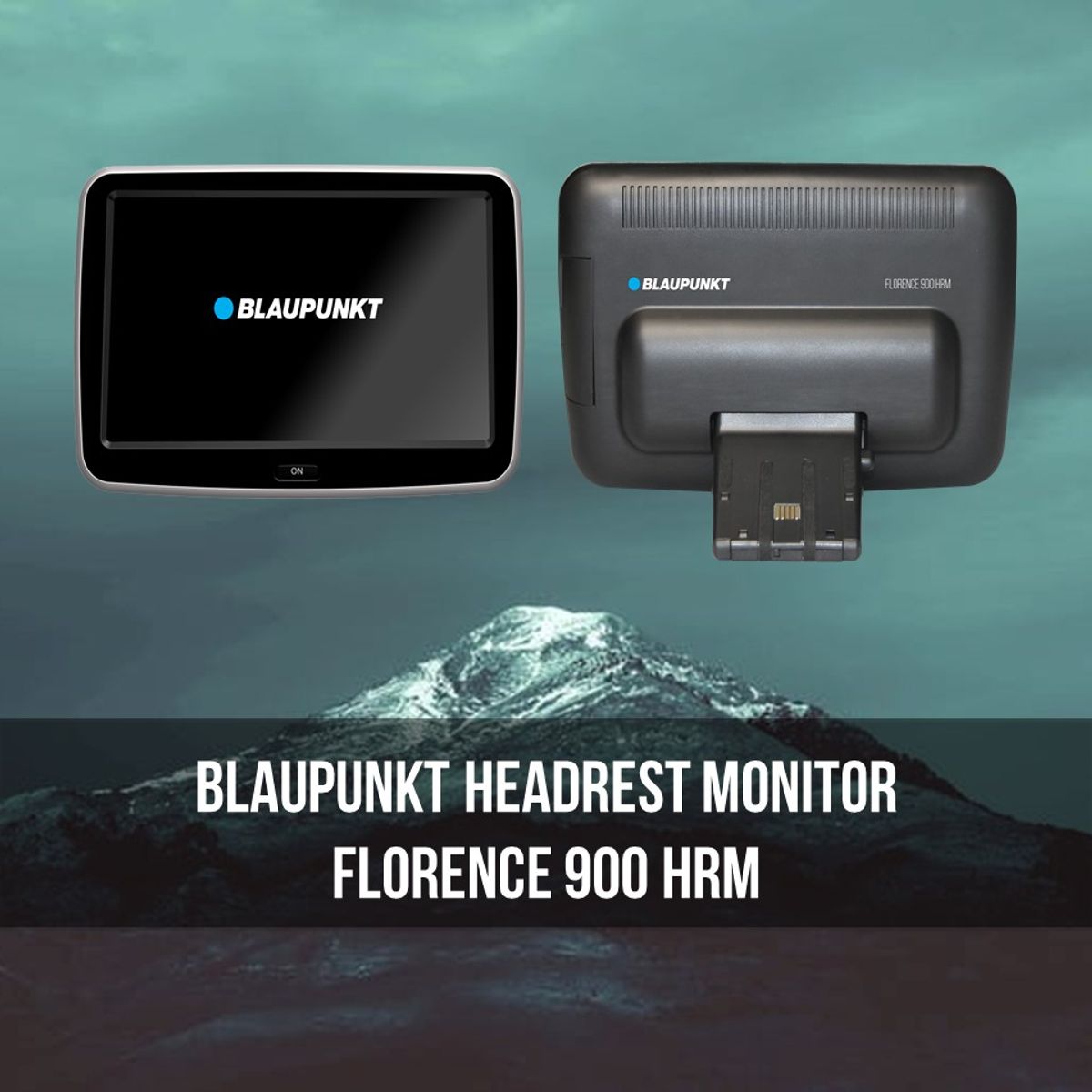 Blaupunkt Florence 900 HRM headrest monitor, no more boring car rides
With many entertainment systems equipped in the car, there is nothing more joyful than being able to have one's very own miniature sized TV to pass the time. Headrest monitors offer private entertainment leisure for backseat passengers and with Florence 900 HRM, there's more to it than expected as this headrest monitor is specially designed for selected Mercedes Benz car models.
Plug & Play Device
Florence 900 HRM headrest monitor is designed by German engineering to feature the plug & play specification to establish an easier way to install the device into the car's back seat. There is no requirement for wiring or cabling addition, just plug and play. Of course, not all cars have plug & play system designed with this feature, hence only selected Mercedes Benz car models that are configured with this specification can use this device. The selected car models is mentioned below.
Display
To maintain privacy control and at the same time, to mimic TV-sized projection, Florence 900 HRM is built to have 10.1" capacitive LCD touch screen panel with a display resolution of 1024 x 600. Navigating throughout the device is easy and comforting as using a smartphone, in addition to the power button that is present on Florence 900 HRM. The viewing angle permitted for this headrest monitor is about 80° to the left, right, up and down, hence does not become a distraction for other passengers. As cars supply 12V DC, the headrest monitor does not exceed the power supply requirement limit and will work perfectly well.
Android 4.4.4 operating system
Engineered features that provides a sense of control and joy at the same time in Florence 900 HRM allows users to be able to spend the time in the most engaging way possible, thanks to the Android 4.4.4 operating system . This feature is patterned into this headrest monitor as it is smart and simple, and able to multitask. This beauty is able to support most of Google Play apps, as they mostly require Android 2.3 ~ 4.1 to function. But being said, users are still advised to be prudent with the storage.
Built-in Wi-Fi
There is built-in Wi-Fi where user can get access to the internet connection via the Wi-Fi or Hotspot. User can stream the internet live or get access to social media websites such as Facebook, Twitter and YouTube. Mothers, now you can play as much educational cartoons as long as YouTube does not stop offering free videos.
Built with IR (Infrared)/ FM (Frequency Modulation) / BT (Bluetooth) transmitter
The device is able to recognize headphone built with IR (Infrared), FM (Frequency Modulation) or BT (Bluetooth) transmitter. While users are mostly familiar with BT, both IR and FM functions equally like BT. Without wired headphones, not only the user is given the best comfort while enjoying his favourite pass-time in the car, other passengers are able to enjoy their journey likewise without being disturbed.
For Selected Mercedes Benz models:
Malaysia Compatible Mercedes-Benz Models
Mercedes Benz C Class C200 (W205)
Mercedes Benz C Class C250 (W205)
Mercedes Benz C350e (W205) Plug-In Hybrid Drive
Mercedes Benz Class GLC 200 (X253) SUV
Mercedes Benz Class GLC 250 (X253) SUV
*Blaupunkt Florence 900 HRM & Florence 910 HRM is solely distributed by Cycle & Carriage Malaysia*
To learn more about Blaupunkt Florence 900 HRM, visit Blaupunkt website www.blaupunkt.com