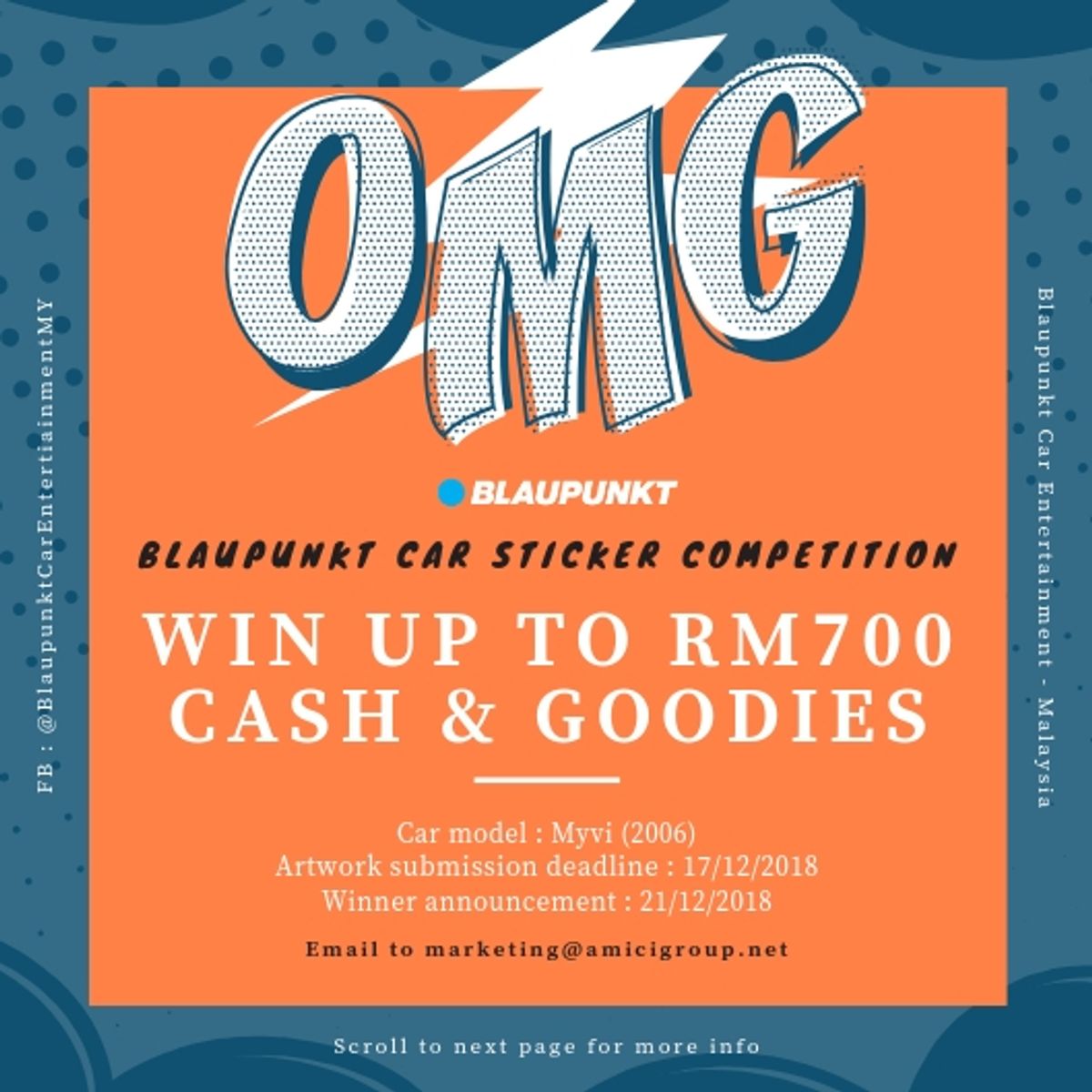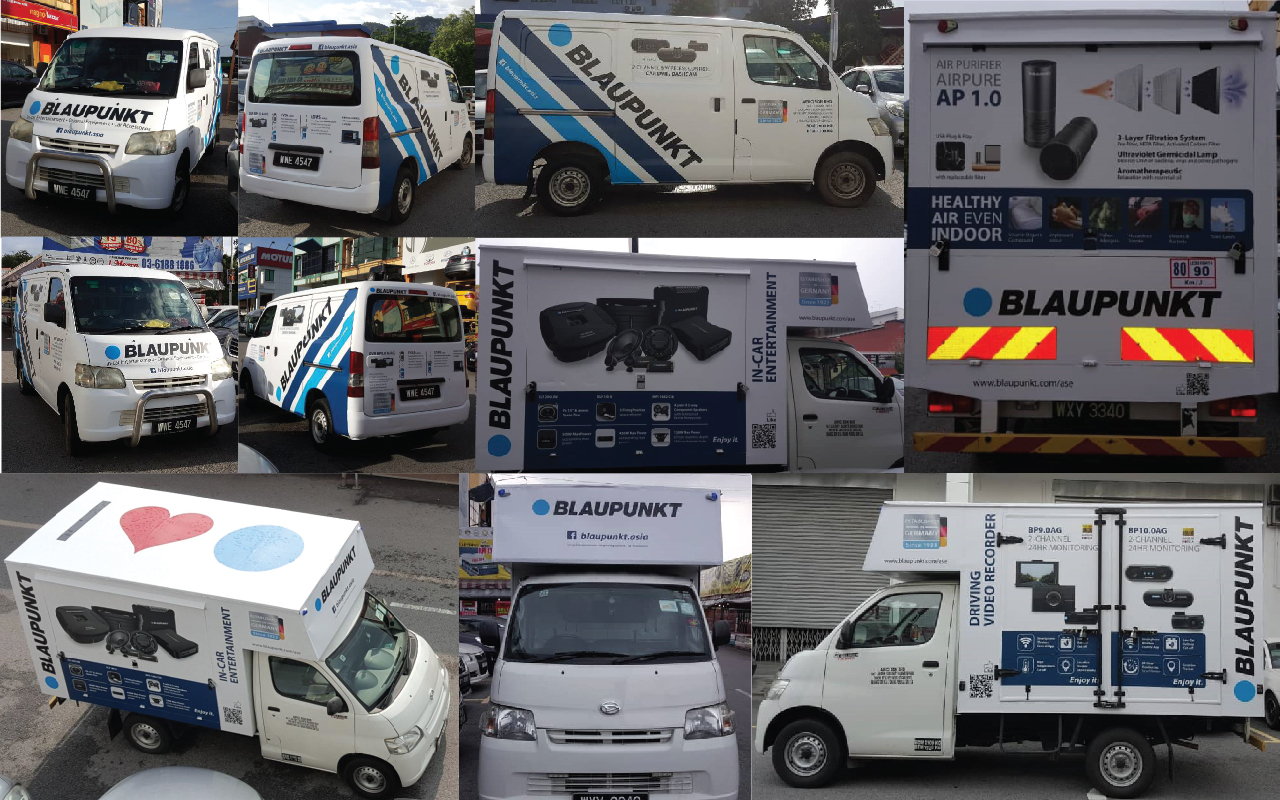 Blaupunkt Car Sticker Design Competition
RM400 cash &

Blaupunkt Wireless Headphone

(worth RM499)


1st Runner up :

RM300 cash &

Blaupunkt Sport In-earphone

(worth RM199)


2nd Runner Up :

RM200 cash &

Blaupunkt In-earphone

(worth RM99)




2x Consolation :

Blaupunkt In-earphone
Artwork Submission deadline : 17/12/2018
Winner will be announced on
Facebook
: 21/12/2018
Artwork Guideline
No pornography / horror image.
Sticker size must fit the entire Perodua Myvi (2006).
🔗 Myvi Size PDF
Blaupunkt logo and icon must be included in the design.
The artwork always depicts the icon, logo & brand name in positive on a white background in the colour combination cyan and black.
Logo : Logo are always scaled up or down together. Maintain a minimum white space of "B" around the logo and brand name at all times and do not intrude on it with other elements or texts.
🔗 Logo PNG
Icon : Icon is always twice the height of Blaupunkt logo and always be scaled up or down together. Maintain a minimum white space of "B" around the logo and brand name at all times and do not intrude on it with other elements or texts.
🔗 Icon PNG
Colour code - Blue dot : C100 M0 Y0 K0, Black wordmark : C0 M0 Y0 K100
By submitting the artwork, contestant agree with below terms and conditions.
Terms & Conditions
Competition open for Malaysia residents only.
Email to [email protected] (with full name).
Contestants is allowed to use these sample template as a guide : BP Asia, BP Polska, BP Msia, www.blaupunkt.com.
All design copyright will be transferred and own by Blaupunkt Car Entertainment – Malaysia (AMICI S/B) upon each entry submission. By submitting the entries, contestants authorize AMICI S/B to post design on our site indefinitely, and grant AMICI S/B the right to use and display prints of the design for business purposes.
AMICI S/B reserves the absolute right to use, modify or change artwork as required without any notice and approval.
All contestants MUST be age 16 or above at time of entry. Design of contestants under 18 must be submitted by legal guardian.
All design must be release for individual usage or purpose usage grants. All entries must contain copyright-free art or art released for entrant's and public use. No unauthorized use of any copyright images, text, or other material will be accepted.
Contest entries must be submitted in either JPG or PNG format, dimensions as listed below must be included, file size should not exceed 2MB (2048 KB).
There is no limit to how many entries each contestant cans submit.
Overall design must be clean, communicate clearly and relate to a broad user base. (Entries will be judged on its contribution to organization and clear communication)
Avoid designs with personalized images and names of family, friend, or other organizations.
Files must meet the dimensions and file size to fit the product type you are designing for. (Once approved, your artwork will be available to download. In order for it to be used on the product it was designed for, it needs to meet the requirements as listed in section 2 of this page. When saving your design, find a happy medium between quality and file size/dimensions for submission. If you are a winner, you will be required to submit a high resolution .eps/.tiff file.)
AMICI S/B reserves the sole right to determine eligibility. Each entry will go through an approval process to determine if the artwork meets our criteria before the entry will be available for judging in its category.
AMICI S/B reserves the sole right to adjust contest rules without notifying contestants. Based on the volume of entries or legal requirements, contest rules can be changed and updated without notice. Contest participants are responsible for checking the site (www.amicimalaysia.com) for changes, and should review the rules prior to each submission.
AMICI S/B will make every reasonable attempt to approve only artwork we deem safe for our users to download. However, AMICI S/B accepts no responsibility for any damage to contestant or visitor computer equipment that may result from system malfunction or corrupted/infected files. Scanning any file prior to download with a virus protection program is recommended.