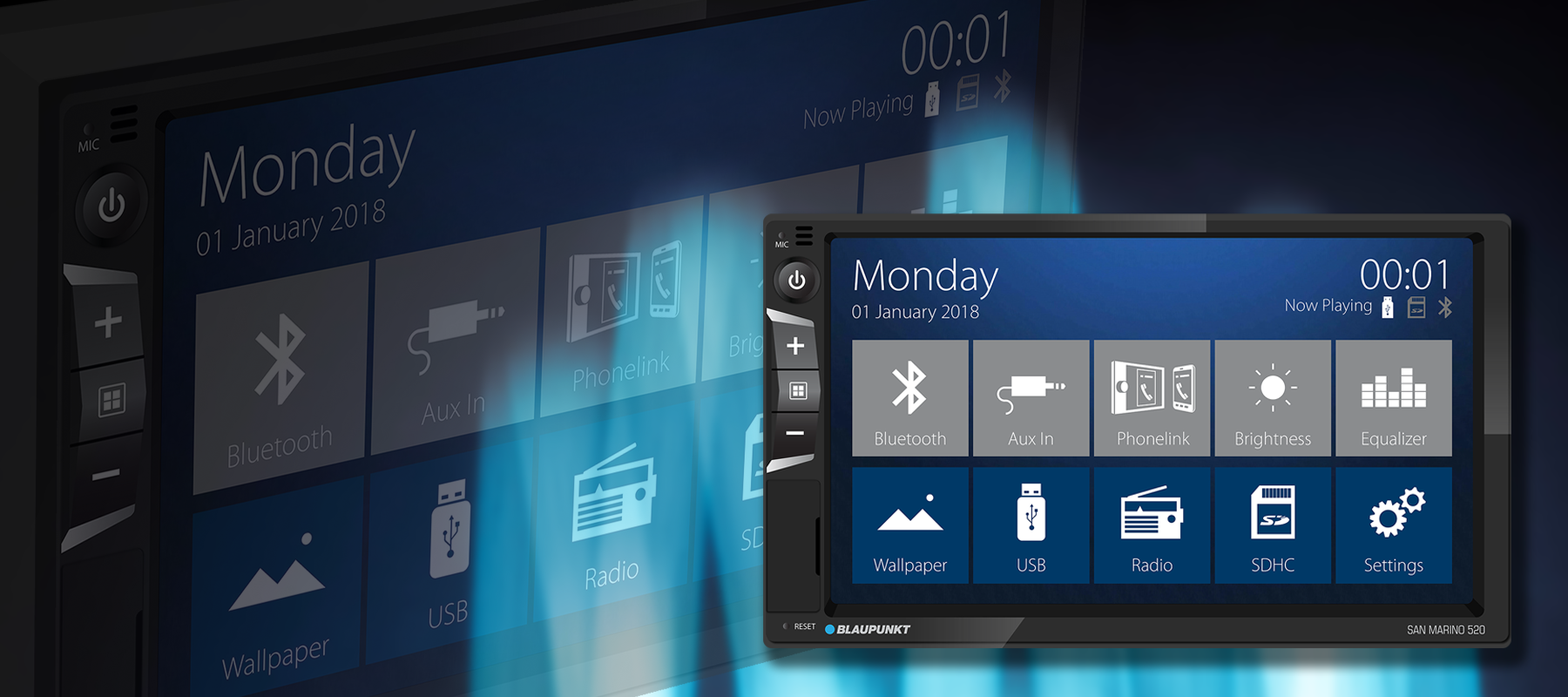 Car Multimedia At Its Finest

Get on board with the multi-functions of Blaupunkt Car Multimedia San Marino 520. Be astonished by its Android 10.0 OS which makes everything work. Conveniently select what you want by tapping on the screen with its 7" Touch Screen Display. Ask for more when you can pair your mobile devices with Bluetooth 4.2 and get ready to dive into the world of entertainment. Perfect as it sounds, San Marino 520 is your must-have car multimedia for your vehicle.





7" Touch Screen Display
Experience the smoothness of the 7" touch screen display on San Marino 520. Easily tap on the screen to select the desired functions. Blaupunkt uses TFT(Thin-Film-Transistor) for the display for its sharpness and speed compared to the LCD screen. You will not get easily distracted by the screen due to its color contrast, keeping you safe on the road while driving.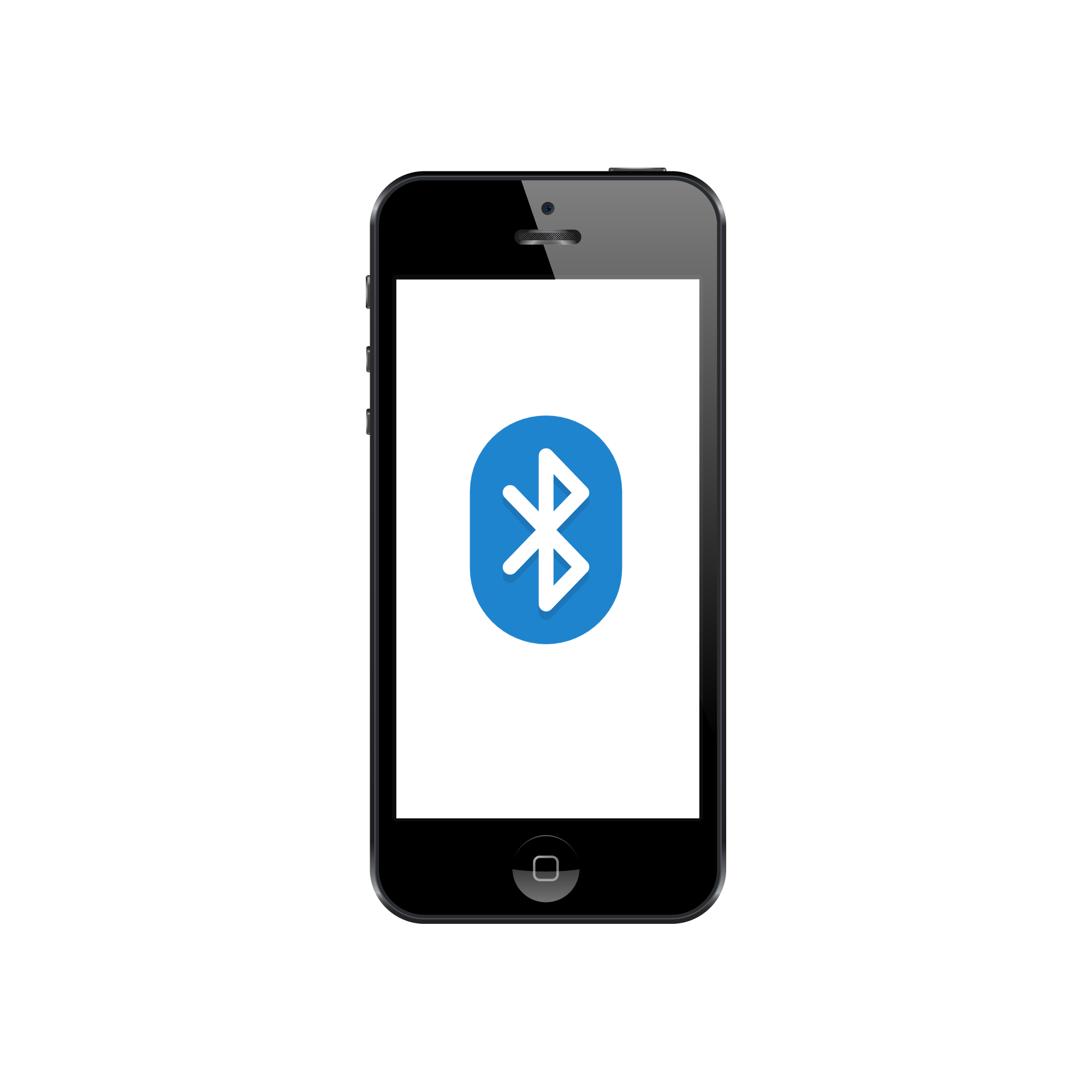 Pairing Made Easy
San Marino 520 is built with Bluetooth 4.2. Device pairing is not only made easier but faster. Unlock more potential with this feature by syncing your smartphone's phonebook to enable driving mode, for your call and music playback. Manage your contact list, accept calls, end calls, and even dial all from San Marino 520. You don't even need to bet an eye on your smartphones. Better yet, control playback or calls from your Steering Wheel Control (SWC); keeping your hands on the wheel and mind focused on the road.




10-band Equalizer
Blaupunkt has considered the audiophiles preferred listening experience and incorporated the 12-Band Equalizer feature. Enhance your driving experience by being your own driving DJ. Your handy partner is built with a 4x50W Max Output Amplifier. In case your own DJ tires you, opt for the pre-set EQ available from User, Flat, Pop, Classic, Rock, Electro, Jazz.
Project Your Screen
Immerse yourself into live entertainment by connecting your devices to San Marino 520 via Phonelink, where you can project your smartphone's display onto your car radio. Supports both iOS and Android devices. You can choose to connect by cable or wireless mirroring. After connecting, you can turn on your favorite music videos, and movies and also use your app through the screen on your dashboard. Keep your loved ones entertained at all times when on the road. iOS
iOS
Supports 1-way control

Connect with cable

Control from iOS device only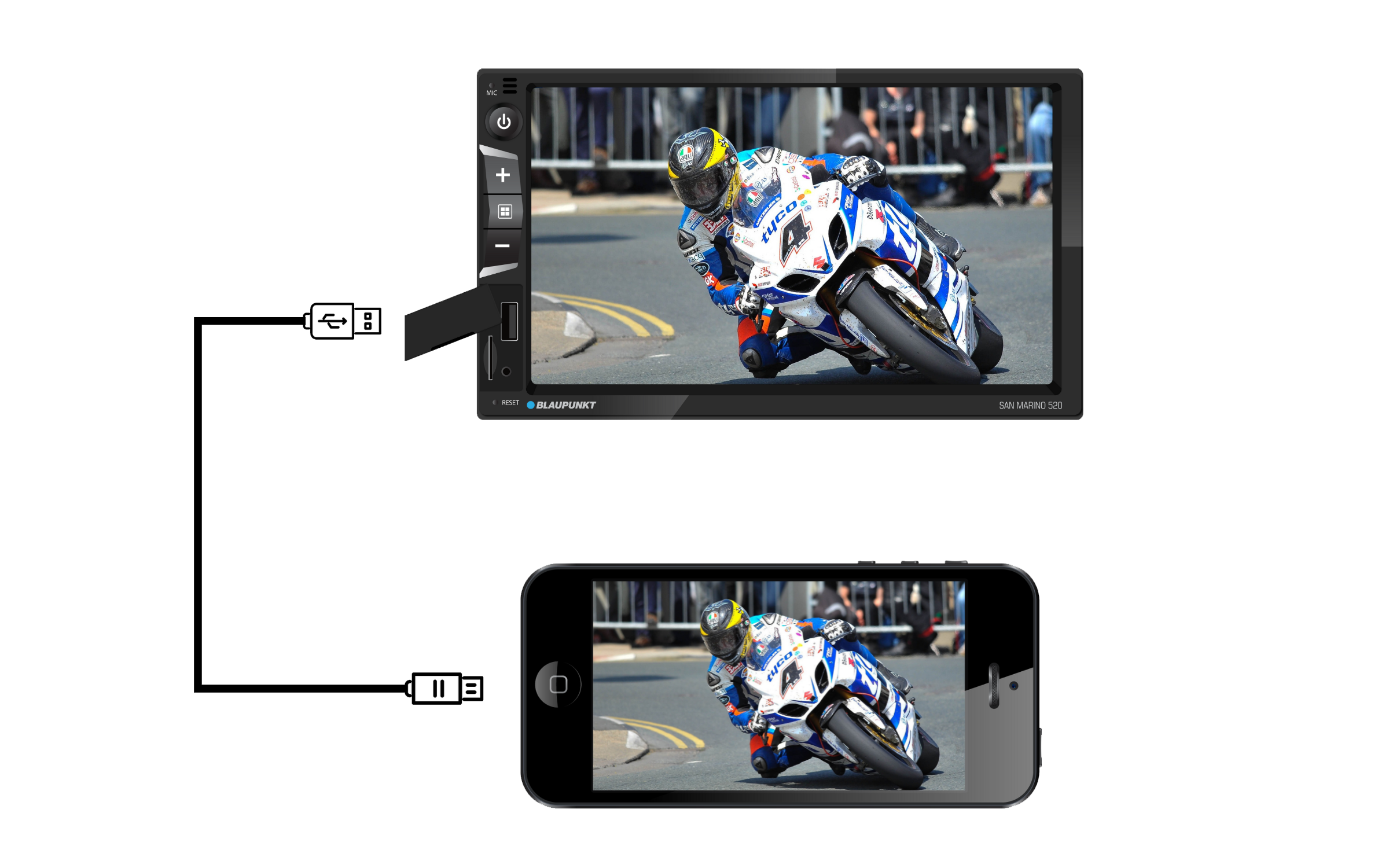 Android
Supports 2-way control

Connect with cable

Control from Android device or car radio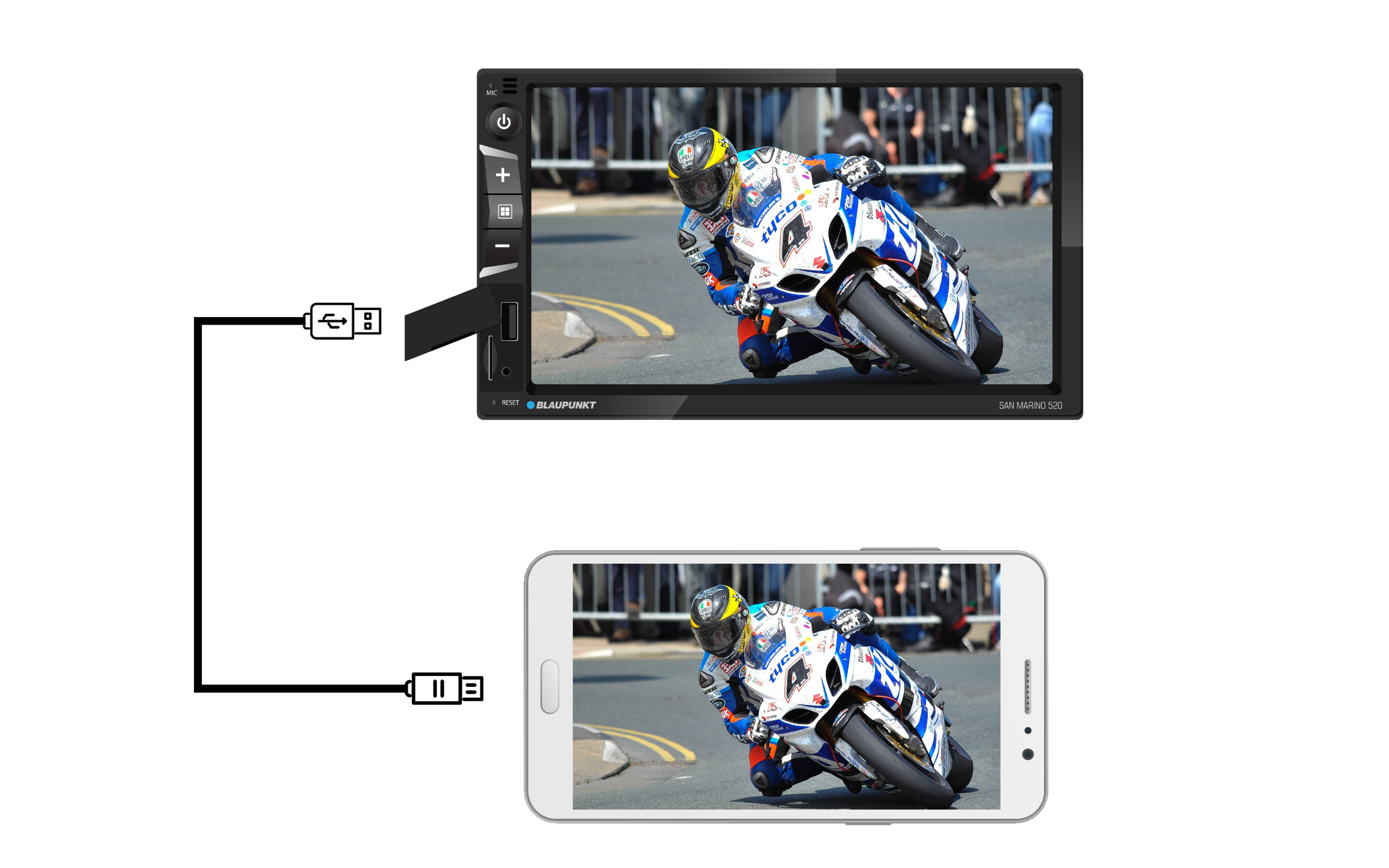 Key Functions
IR Sensor

Internal Microphone

Power Button

Press and hold turn on or turn off

Press to mute or unmute




Increase Volume

Home Button

Decrease Volume

USB Slot

AUX In

MicroSD Card Slot

Reset Button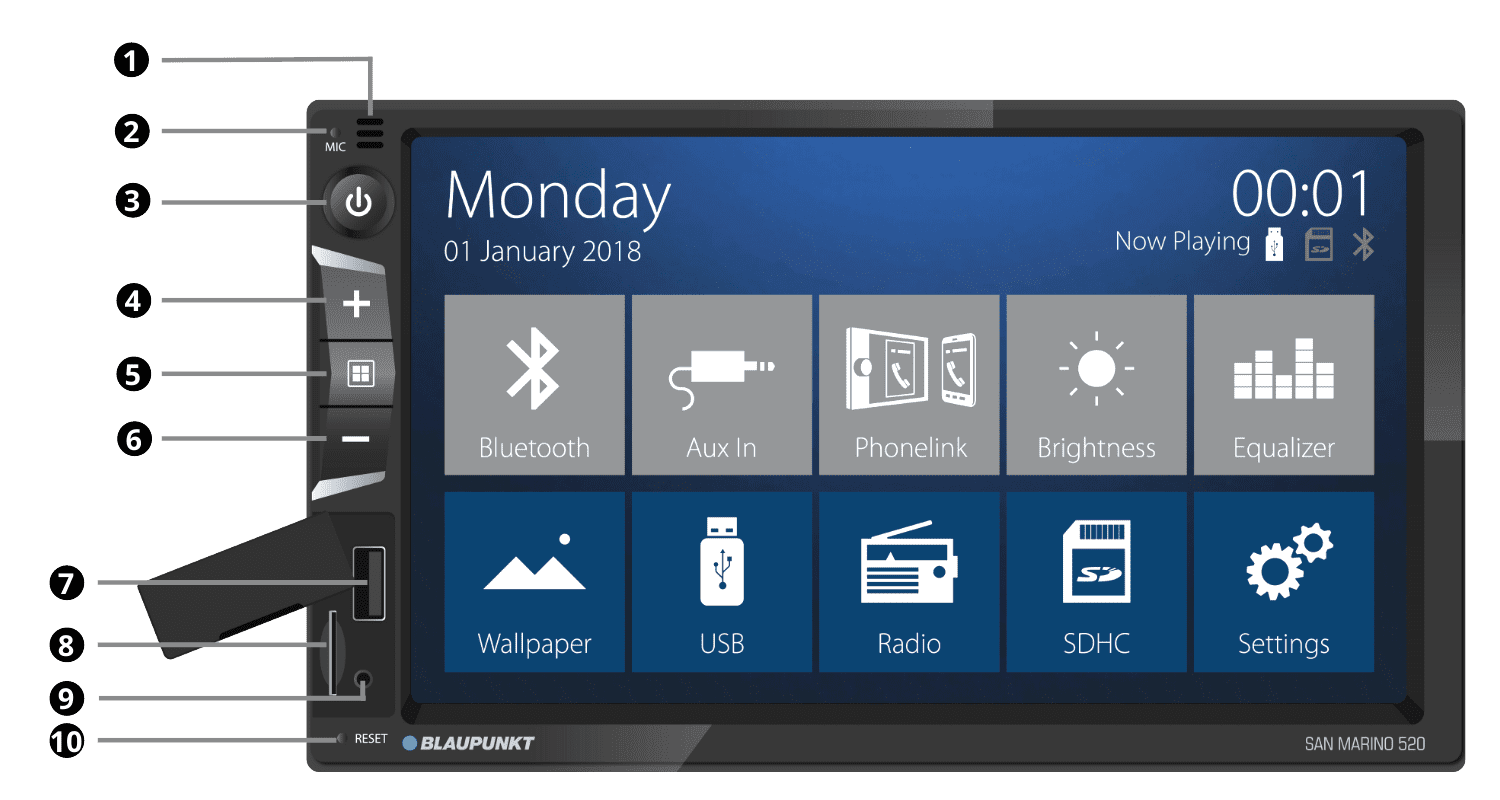 Perfectly Fitted
Dimensions: 178 x 165 x 100mm
Weight: 0.52kg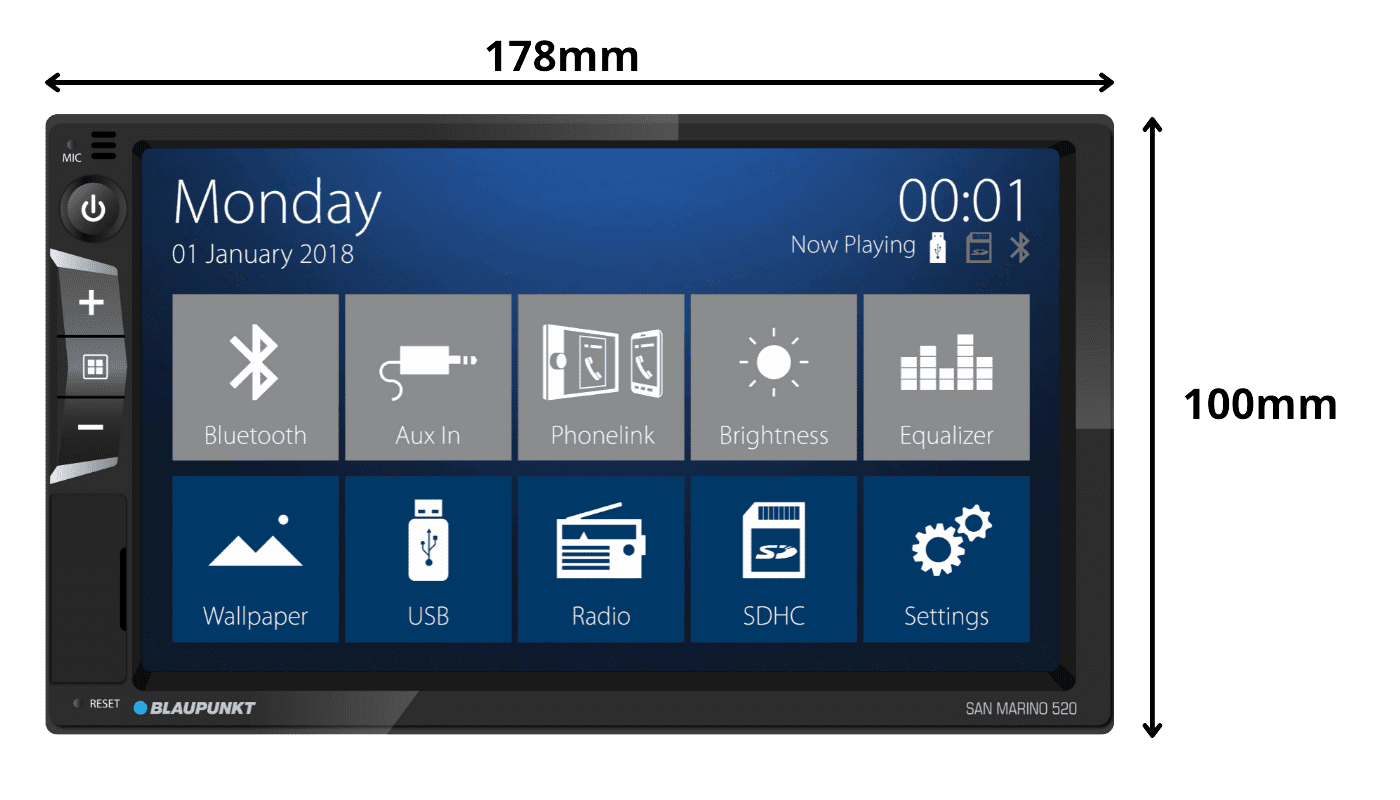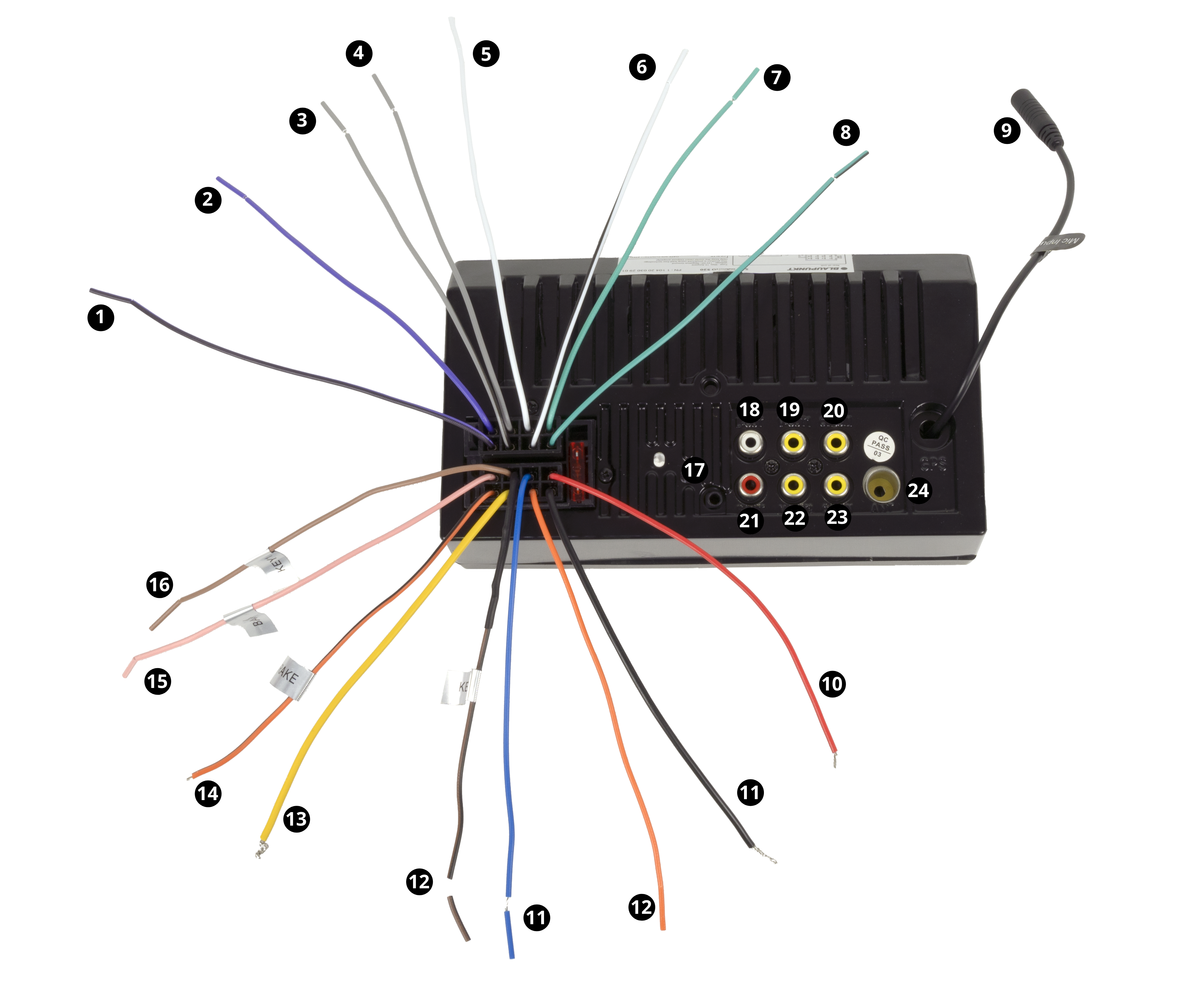 | | | | | |
| --- | --- | --- | --- | --- |
| | 1. Rear Right - | 10. Acc+ 12V | 19. AUX In 2 | |
| | 2. Rear Right + | 11. Ground | 20. Rear Left Out | |
| | 3. Front Right - | 12. Illumination | 21. Out 1 | |
| | 4. Front Right + | 13. Auto Antenna | 22. AV In | |
| | 5. Front Left + | 14. Key 1 | 23. Rear Right Out | |
| | 6. Front Left - | 15. Battery + | 24. Out 2 | |
| | 7. Rear Left + | 16. Rear Camera | 25. Rear Camera In | |
| | 8. Rear Left - | 17. Braking | 26. Antenna | |
| | 9. Microphone Input | 18. Key 2 | | |





Specifications
Display
7 Inch TFT Display

Resolution: 800 x 480 pixels

Adjustable Brightness

Wallpaper Options

Radio System Languages : English, Chinese, Spanish, Dutch, Italian
Radio
Wave Bands: FM 1,2,3 AM 1,2

Travelstore: FM, AM

Switchable World Tuner: Europe, America, Thailand
Data Carrier
USB 2.0 Compatible (Removable Storage up to 32GB)

MicroSD Card (Up to 32GB)

Frequency Response: 20-20.000Hz

Storage Formats: USB, SDHC, SD, FAT, FAT 16, FAT 32
Media Player
Video Formats: AVI, MP4

Image Format : JPEG, JPG

Audio Format : FLAC, WAV

Playback Via USB
Bluetooth
Bluetooth 4.2

Supports Profiles

Support Phonebook Function

1 x Device Pairing

Hands-Free Built-In

History Call Lists (Missed, Dialed, Received Calls)

Auto Synchronization (On/Off)

Built-in Microphone
Equalizer
10-Band Equalizer

Sound Preset: User, POP, Rock, Classic, Jazz, Beat
Amplifier
Inputs / Outputs
2 Audio Channels

RCA Rear View Video

Camera Input

1 x Front USB

1 x Front Aux Input

1 x Rear Aux Input

2 x Video Output

1 x CVBS Input

Steering Wheel Control
Phonelink
Smart Phone Connection: Lightning cable (iOS), Mini USB or Type-C (Android)

Smartphone Control: 1-way (iOS), 2-way (Android)

Version: iOS 14.3 / Android 10.0
Accessories
Operating / Installation instruction

Remote Control (Battery Included)

Connection Cable
Dimensions
Size: 178 x 165 x 100mm

Weight: 0.52kg
Subject to 3% service charges for order cancellation.
For purchase more than 10 units, drop us message here