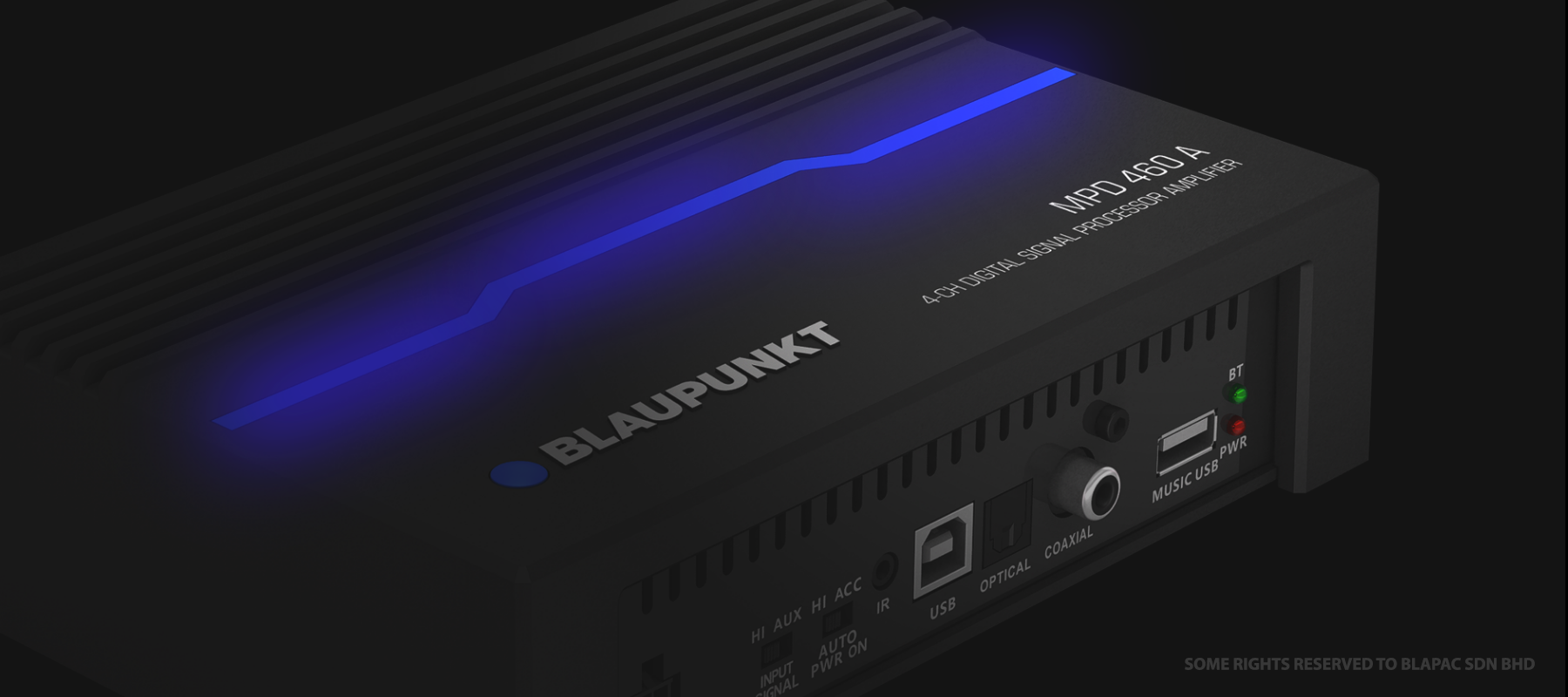 Amplify Your Surrounding

Listening to your favorite songs through your vehicle's speakers is very dull especially when it is affected by the road noise. To overcome it, Blaupunkt MPD 460 A is designed to strengthen weak audio signals, and improve the music's clarity and quality. Apart from that, MPD 460 A is capable of producing a Maximum Output Power of 140W. MPD 460 A Amplifier is meant to create a whole new experience in your listening experience.



Digital Signal Processor
Digital Signal Processor is functioned specifically to manipulate audio signals and frequencies of the audio systems in the vehicle. One of the key features of Digital Signal Processor is the Signal Delay feature. Signal Delay is a tuning feature to delay the sound from the different audio systems (Tweeters, Subwoofers, Speakers) that are placed in different distance to arrive to the subject (driver or passengers) at the same time. It has all the setting that everyone need without even relying on other tuning systems. MPD 460 A is powered by Velocity Power which makes it a high quality top-notch audio system in the market.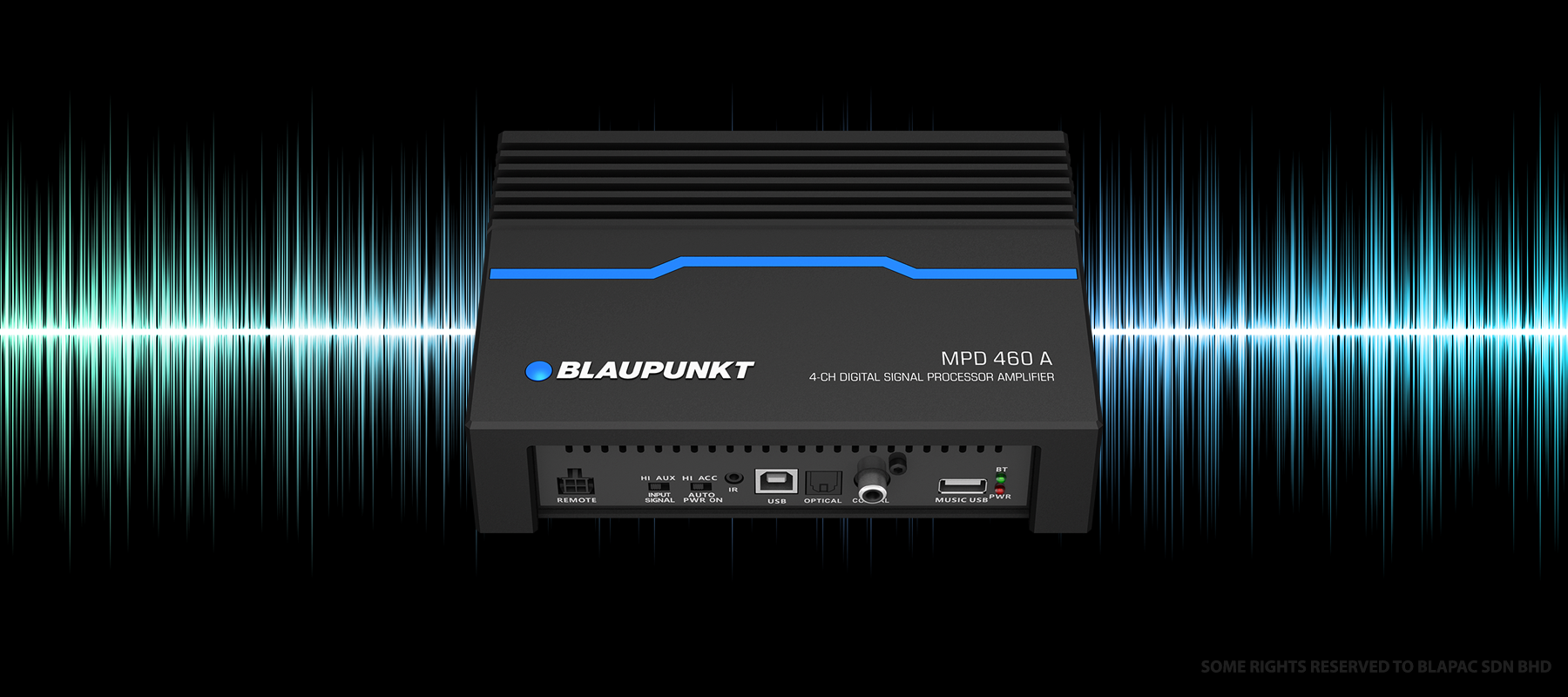 Class AB Amplifier
Blaupunkt Amplifier MPD 460 A is a 4-Channel Class AB Amplifier that generates an RMS Power of 35W x 4. This allows each of the channels to produce up to 35 watts of power, creating sufficient power for MPD 460 A to maximize its performance. Furthermore, MPD 460 A has also a Digital Signal Processor feature which allows users to better calibrate the audio systems in one go without handling more than one device.
MPD 460 A PC Tuner Software
Blaupunkt MPD 460 A allows complete control and command of the Digital Signal Processor through PC Tuner software. To adjust and calibrate the sound systems in your vehicle, Blaupunkt offers a unique and user-friendly software interface for you to create a whole new experience on the DSP. Such settings include signal routing, equalization, frequency adjustment, and more. Download the PC Tuner software at the bottom of the page.
Car Specific Wiring Method
Universal Wiring Method
Specifications
Audio
RMS Power: 35Wx4(4Ω), 60Wx4(4Ω)

DSP Resolution: 24 Bit

DSP Power: 48 kHz

Output Power RMS @ 4 Ohms (≤1% THD +N): 4x35W

Output Power RMS @ 4 Ohms (≤1% THD +N): 4x50W

Distortion (THD): <0.005%


Damping Factor: >70

Operating Voltage: 10 -14.4V

Sampling Rate: 48kHz

Signal Converter A/D: 7210

Signal Converter D/A: 4344
Input
2 x RCA/ Aux-In

1 x COAX-In

4x High Level Speaker Input

1 x Optical SDPIF

1 x Remote-In

1 x USB

RCA/ Cinch Sensitivity: 300mV

High Level Input Sensitivity: 2.5V

Impedance High Level: 100 Ohm

Signal-to-Noise Ratio Analog-Input: 100dB

Signal-to-Noise Ratio Digital-Input: 100dB



Output
6 x RCA / Cinch

4 High Level Speaker Output

1 x Remote-Out

Voltage RCA/ Cinch: 4V RMS
Features
Class AB Amplifier

31-Band Equalizer/ Phase & Time Alignment Setting

Max. Output Power: 140W

Max. Current Consumption: 30A

Frequency Response: 10Hz-20kHz

Dimension (W x H x D): 170 x 120 x 43mm

Weight: 0.85 kg
Accessories
Operating / Installation Instruction

Remote Control
Subject to 3% service charges for order cancellation.
For purchase more than 10 units, drop us message here