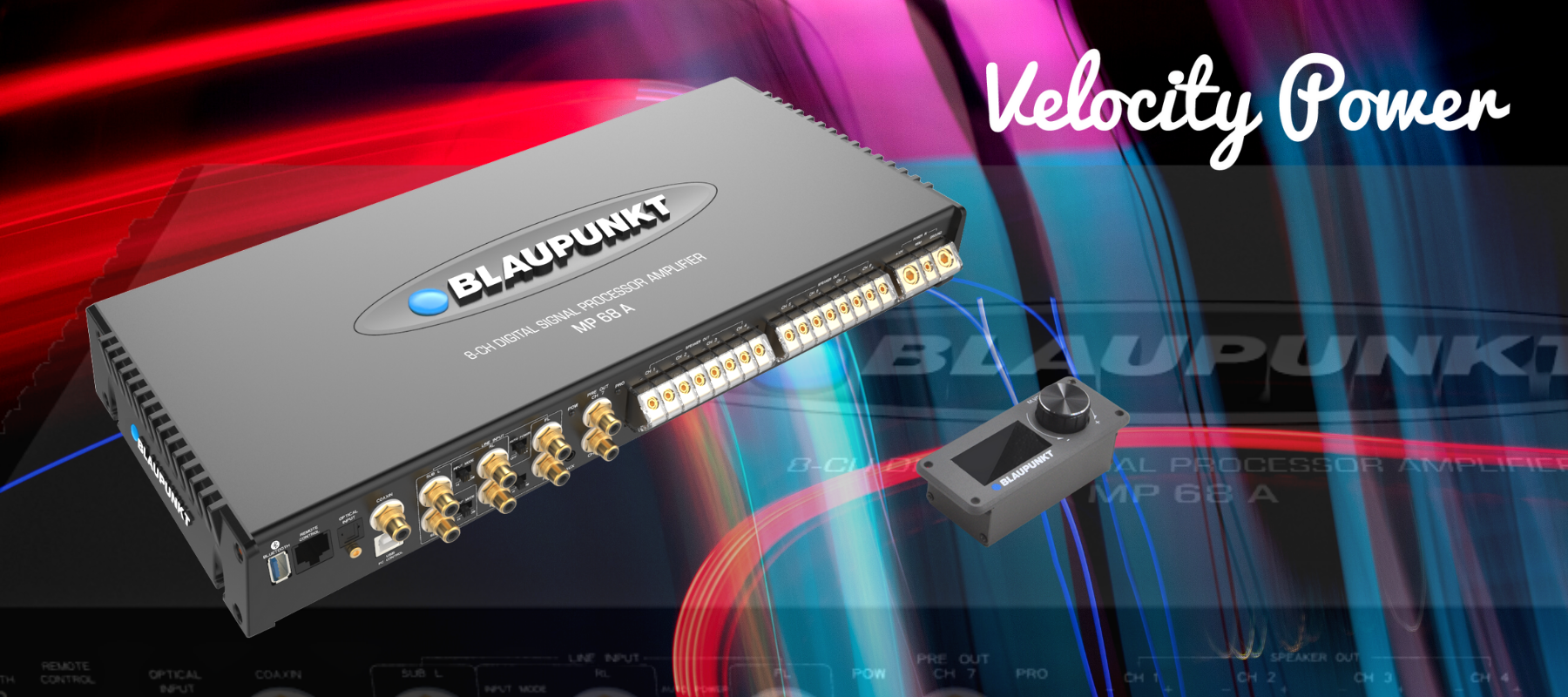 Tune Beyond Capabilities

Be amazed with the limitless capabilities of Blaupunkt Digital Signal Processor MP 68A. This DSP comes with 32-bit, 6-Channel High Level / RCA Input & Mixer allowing more sound systems to be controlled and tuned based on our listening likings. Blaupunkt DSP MP 68A delivers a state of the art tuning quality with its Velocity Power to further enhance your listening experience. Blaupunkt Digital Signal Processor MP 68A is also equipped with a 75Wx8 Class D Amplifier to maximize the sound system with no hassle. To gain control of the DSP, Blaupunkt has designed a PC Tuner software which can be downloaded on the website specifically for music fanatics to tune their sound systems into a piece of art. Needless to say, Blaupunkt Digital Signal Processor MP 68A converts your sound system into a perfection with just clicks on the buttons.






Digital Signal Processor
Digital Signal Processor is functioned specifically to manipulate audio signals and frequencies of the audio systems in the vehicle. One of the key features of Digital Signal Processor is the Signal Delay feature. Signal Delay is a tuning feature to delay the sound from the different audio systems (Tweeters, Subwoofers, Speakers) that are placed in different distance to arrive to the subject (driver or passengers) at the same time. It has all the setting that everyone need without even relying on other tuning systems. MP 68 is powered by Velocity Power which makes it a high quality top-notch audio system in the market.



Built-In Amplifier
Blaupunkt DSP MP 68A is also equipped with MOFSET 8-Channel 75W Class D Amplifier. This allows each of the channels to produce up to 75 watts of power. By having an 8-Channels DSP, you can install a variety of audio systems such as speakers, tweeters, and subwoofers to leverage the audio power and making the sound more realistic and accurate. Equipping an amplifier in DSP allows users to control and calibrate the audio systems in one go without handling more than one device.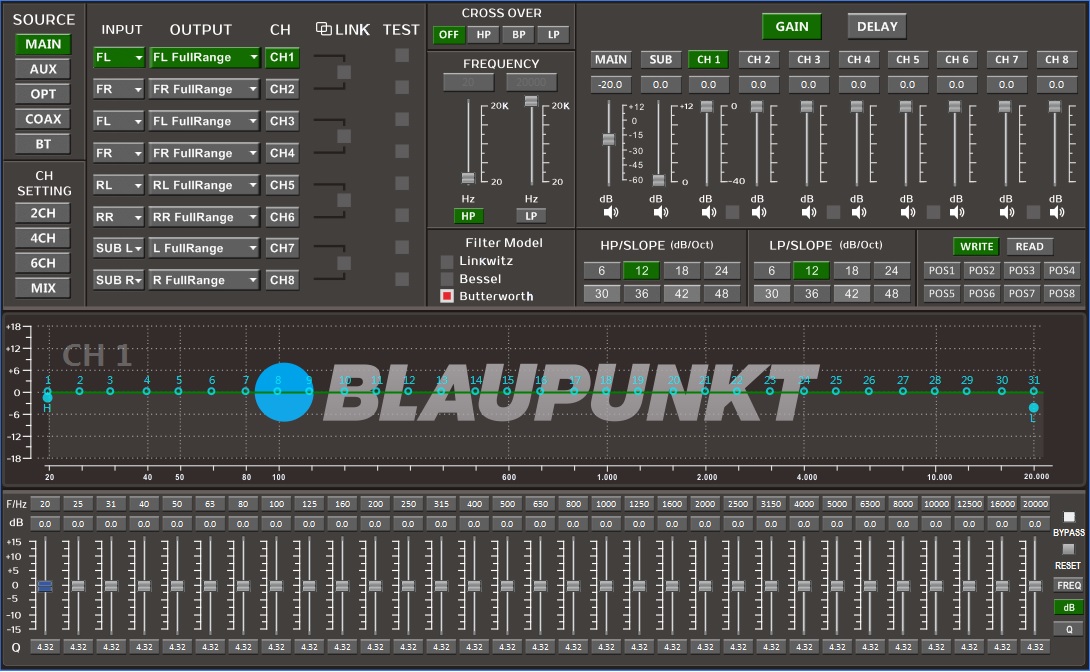 MP 68A PC Tuner Software
Blaupunkt MP 68A allows complete control and command of the Digital Signal Processor through PC Tuner software. To adjust and calibrate the sound systems in your vehicle, Blaupunkt offers a unique and user-friendly software interface for you to create a whole new experience on the DSP. Such settings include signal routing, equalization, frequency adjustment, and more. Download the PC Tuner software at the bottom of the page.
Installation Diagram Reference 1:
Channel Stand-Alone Treble Mode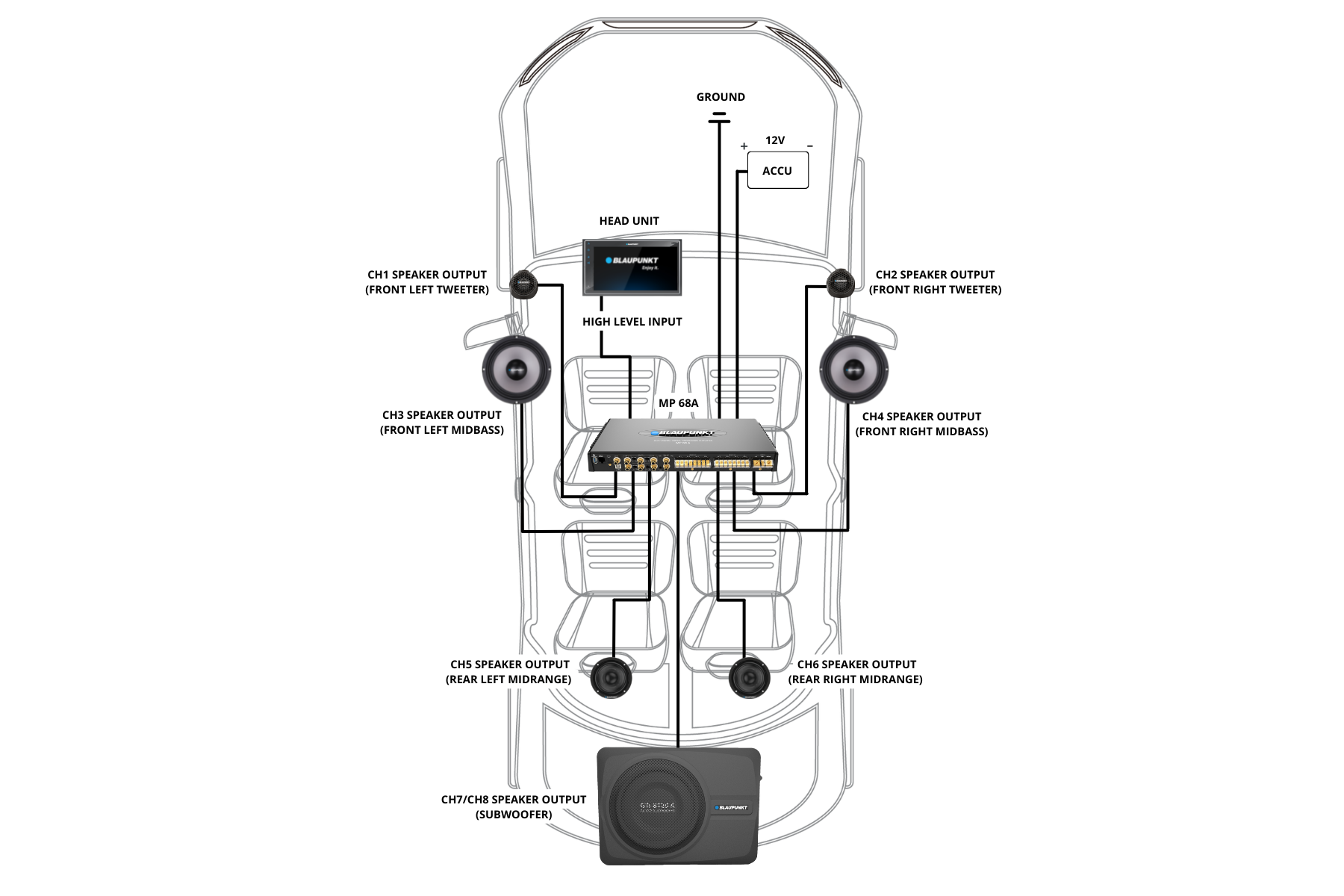 ---
Installation Diagram Reference 2:
2-Way Crossover Treble Mode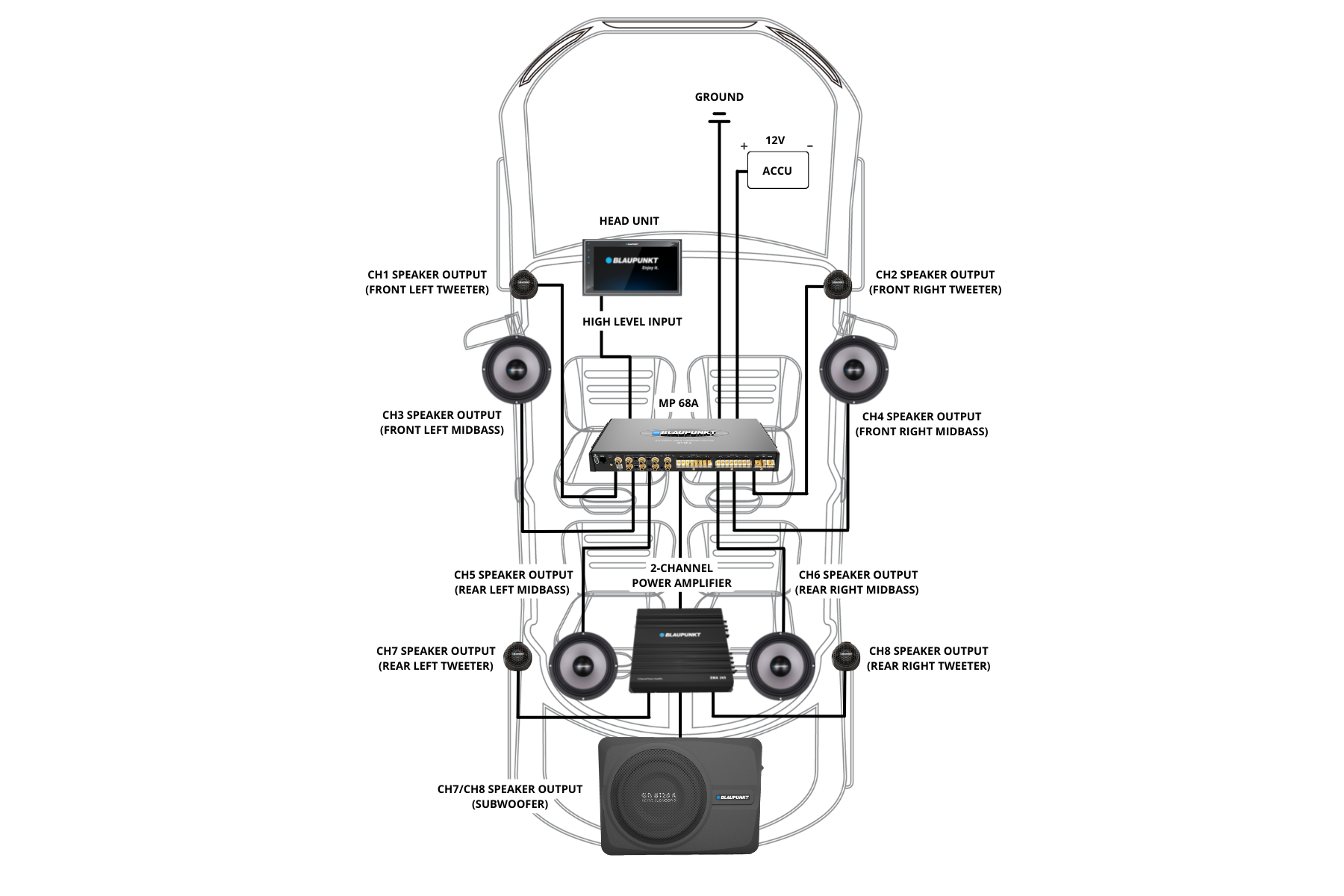 ---
Installation Diagram Reference 3:
3-Way Crossover Treble Mode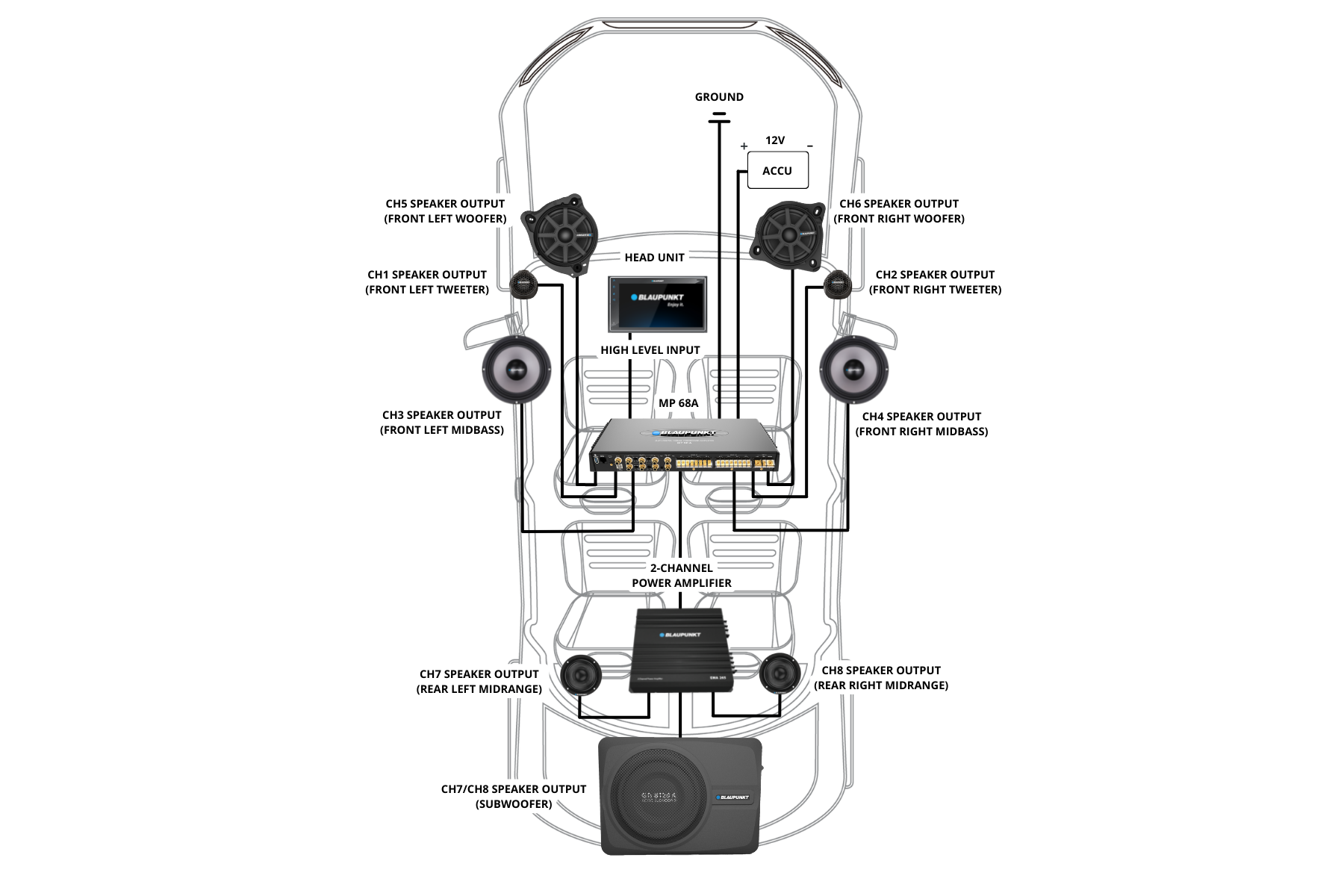 Specifications
Output Power RMS 4 ohms: 80 Watts / Channel (≤ 1% THD + N)

Output Power RMS 2 ohms: 120 Watts / Channel (≤ 1% THD + N)

Inputs: 2RCA / AUX in, 6 High Level Speaker Input, 1 x Optical SPDIF (12-96 kHz), 1 x Remote-In

Input Sensitivity: RCA / Cinch 400mv 1 x COAX-in High level 5 – 10V or 10-20V

Output Voltage RCA / Cinch: > 5 Volts RMS

Frequency Response: 20Hz – 22kHz

DSP Resolution: 32 bits

DSP Power: 295 MHz (1.2 billion MAC operations/second)

Sampling Rate: 48 kHz

Signal Converters A/D: Burr-Brown

Signal Converters D/A: Burr-Brown

Signal-to-Noise Ratio Digital Input: 105dB

Signal-to-Noise Ratio Digital Input: 100dB (A-weighted)

Distortion (THD): <0.015%

Damping Factor: >70

Input Impedance RCA: 22k ohms

Input Impedance High level: 200 ohms

Operating Voltage: 9-15V (max 5 sec down to 6V)

Dimension (L x W x H): 378 x 163 x 47mm

Weight: 3.16kg
Accessories:
1 x 5.0. USB Cable

Control High Level Input

1 x 5.0m DRC AC Link Cable

Self-Tapping Screws 4 x (4 x 1.5mm), 8 x (3 x 6mm)

Bluetooth Dongle (Optional)