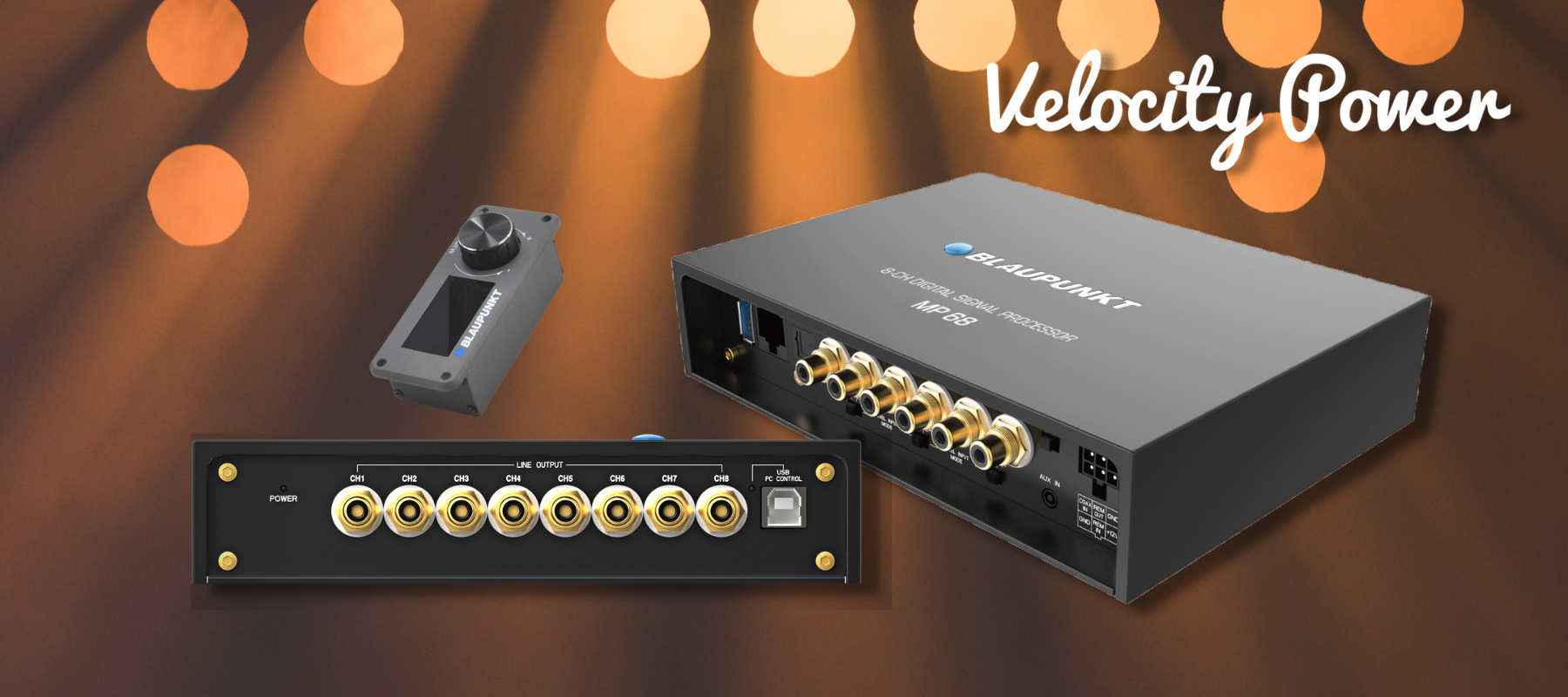 Accurate Tuning
Embrace yourself with the intensity in your car sound system with Blaupunkt Digital Signal Processor MP 68. MP 68 provides excellent tuning on your sound system with its Digital Signal Processor function. The DSP has a power of 296 MHz (1.2 billion MAC operations/seconds) with 32-bit resolution as well. It's safe to say that MP 68 is designed for precise tone-control on the sound. Another advantage of it is also capability to deliver accuracy in the crossover settings of your sound systems. With its small size and light characteristics, you can place the DSP anywhere you like even under your seats without affecting any space.



Digital Signal Processor
Digital Signal Processor is functioned specifically to manipulate audio signals and frequencies of the audio systems in the vehicle. One of the key features of Digital Signal Processor is the Signal Delay feature. Signal Delay is a tuning feature to delay the sound from the different audio systems (Tweeters, Subwoofers, Speakers) that are placed in different distance to arrive to the subject (driver or passengers) at the same time. It has all the setting that everyone need without even relying on other tuning systems. MP 68 is powered by Velocity Power which makes it a high quality top-notch audio system in the market.




Small Yet Powerful
Apart from other DSP models, Blaupunkt MP 68 is designed with a dimension of 18cm x 13cm which is equivalent to the size of a mini notebook. This allows you to fit and place the DSP almost anywhere in your vehicles. No extra size needed for it. All you need to do is just sit tight and enjoy the result of MP 68 towards your sound systems.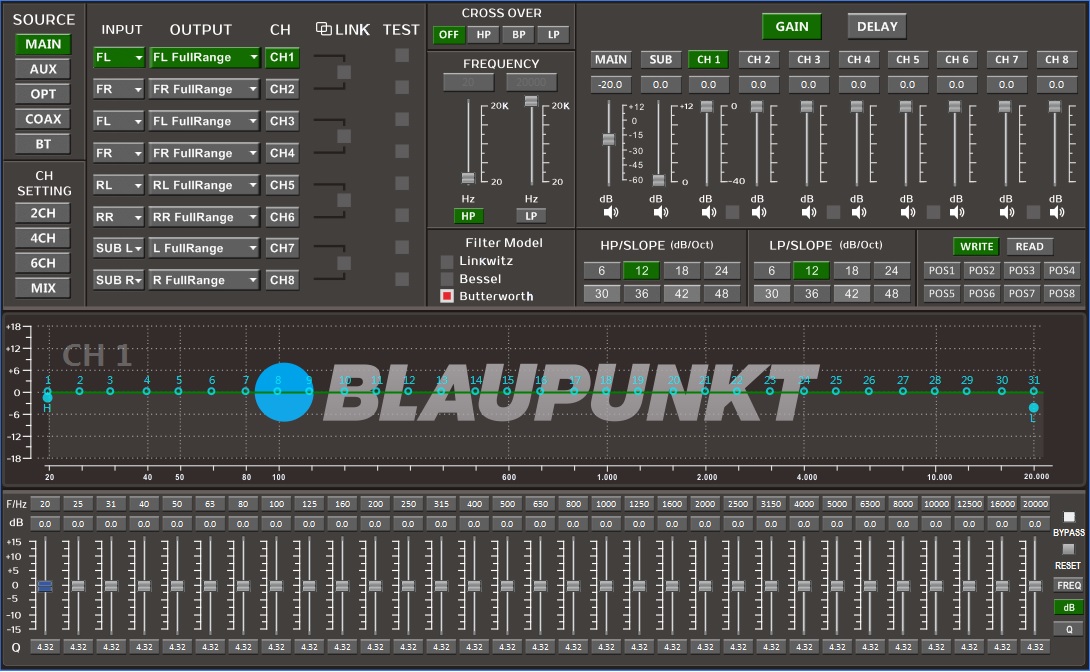 MP 68 PC Tuner Software
Blaupunkt MP 68 allows complete control and command of the Digital Signal Processor through PC Tuner software. To adjust and calibrate the sound systems in your vehicle, Blaupunkt offers a unique and user-friendly software interface for you to create a whole new experience on the DSP. Such settings include signal routing, equalization, frequency adjustment, and more. Download the PC Tuner software at the bottom of the page.
Installation Diagram Reference 1:
Channel Stand-Alone Treble Mode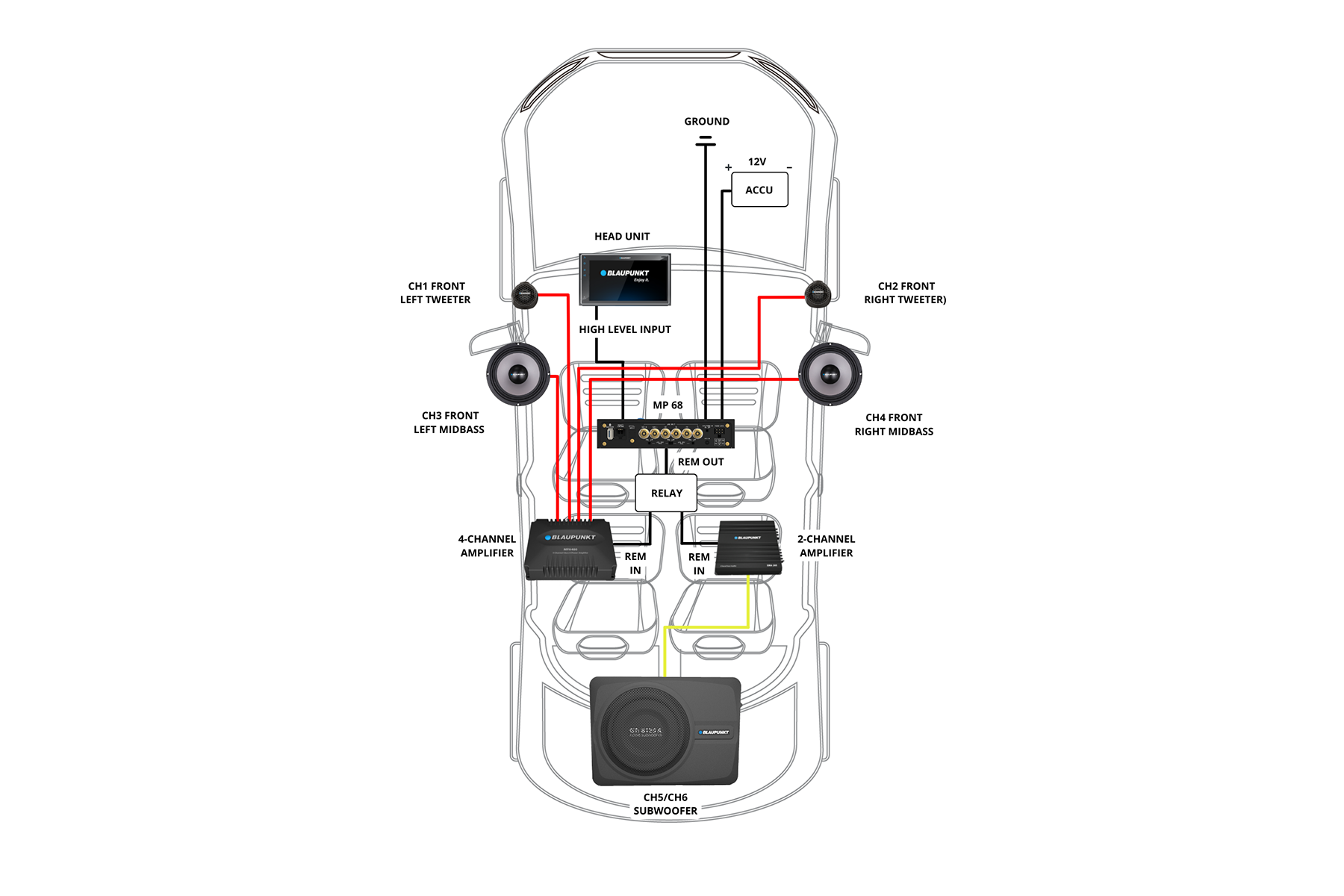 ---
Installation Diagram Reference 2:
2-Way Crossover Treble Mode
---
Installation Diagram Reference 3:
3-Way Crossover Treble Mode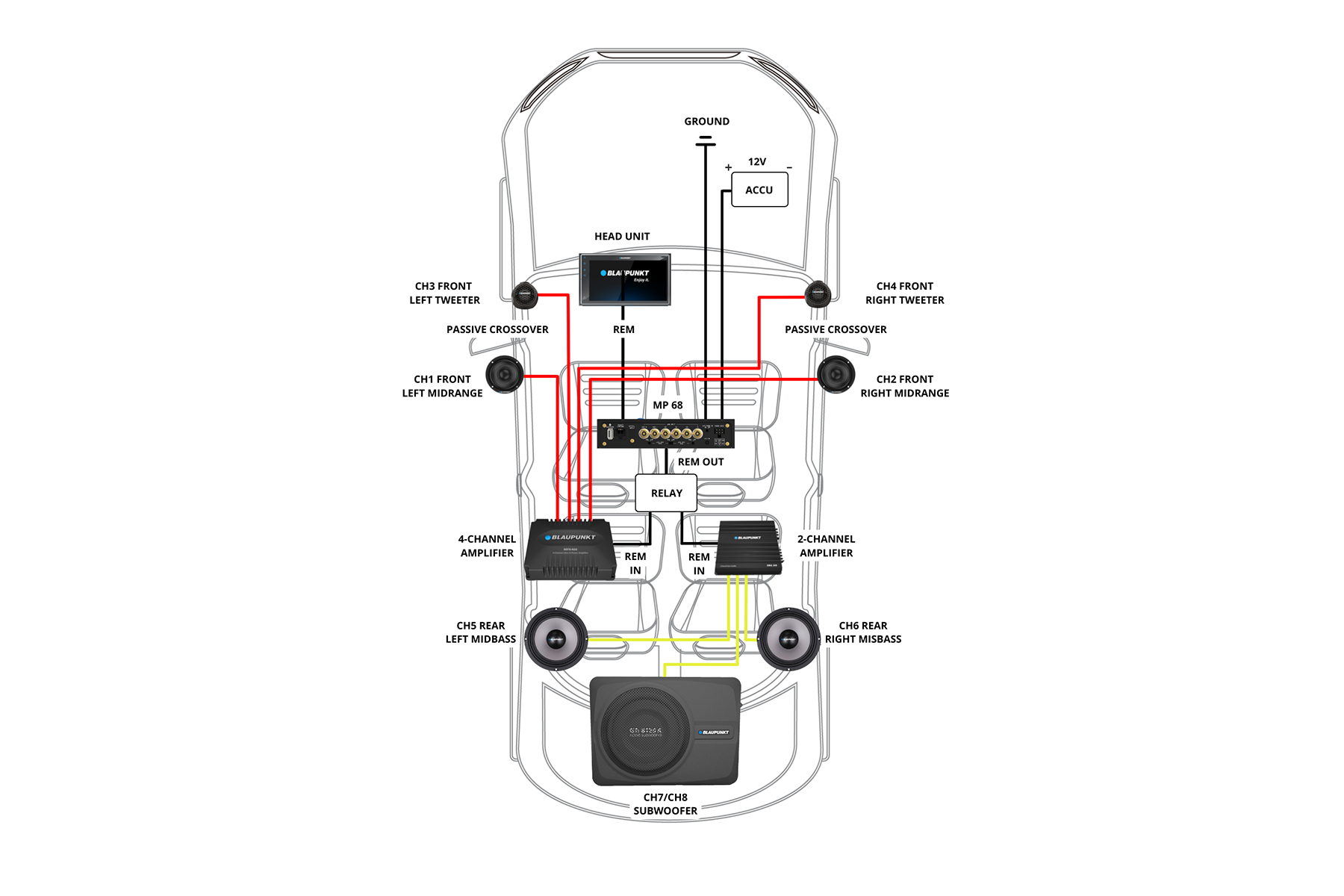 Specifications
Inputs : 6x RCA/Aux-in, 6 High-level Speaker Input, x Optical SPDIF (12 - 96kHz), 1x Remote-in, 1x COAX-in, 1x Aux-in (3.5mm JACK)

Input sensitivity : RCA/Cinch 400mv 1x COAX-in, High-level 5 - 10 Volts or 10 - 20Volts

Outputs : 8x RCA/Cinch, 1x Remote-out

Output voltage RCA/Cinch : > 5 Volts RMS

Frequency Response: 20Hz – 22kHz

DSP Resolution: 32 bits

DSP Power: 295 MHz (1.2 billion MAC operations/second)

Sampling Rate: 48 kHz

Signal Converters A/D: Burr-Brown

Signal Converters D/A: Burr-Brown

Signal-to-Noise Ratio Digital Input: 105dB

(A-weighted)

Signal-to-Noise Ratio Digital Input: 100dB (A-weighted)

Distortion (THD): <0.015%

Damping Factor: >70

Input Impedance RCA: 22k ohms

Input Impedance High level: 200 ohms

Operating Voltage: 9-15V (max 5 sec down to 6V)

Dimension (L x W x H): 378 x 163 x 47mm

Weight: 3.16kg
Accessories:
5.0m USB Cable

Control High Level Input

4 of 4x15mm / 8 of 3x6mm self-tapping, screws

DSP 1.0 SW CD or visit www.blaupunkt.com/ase to download (Windows only)

Digital Remote Control (DRC) Control Panel (Optional)

5.0m DRC AC Link Cable