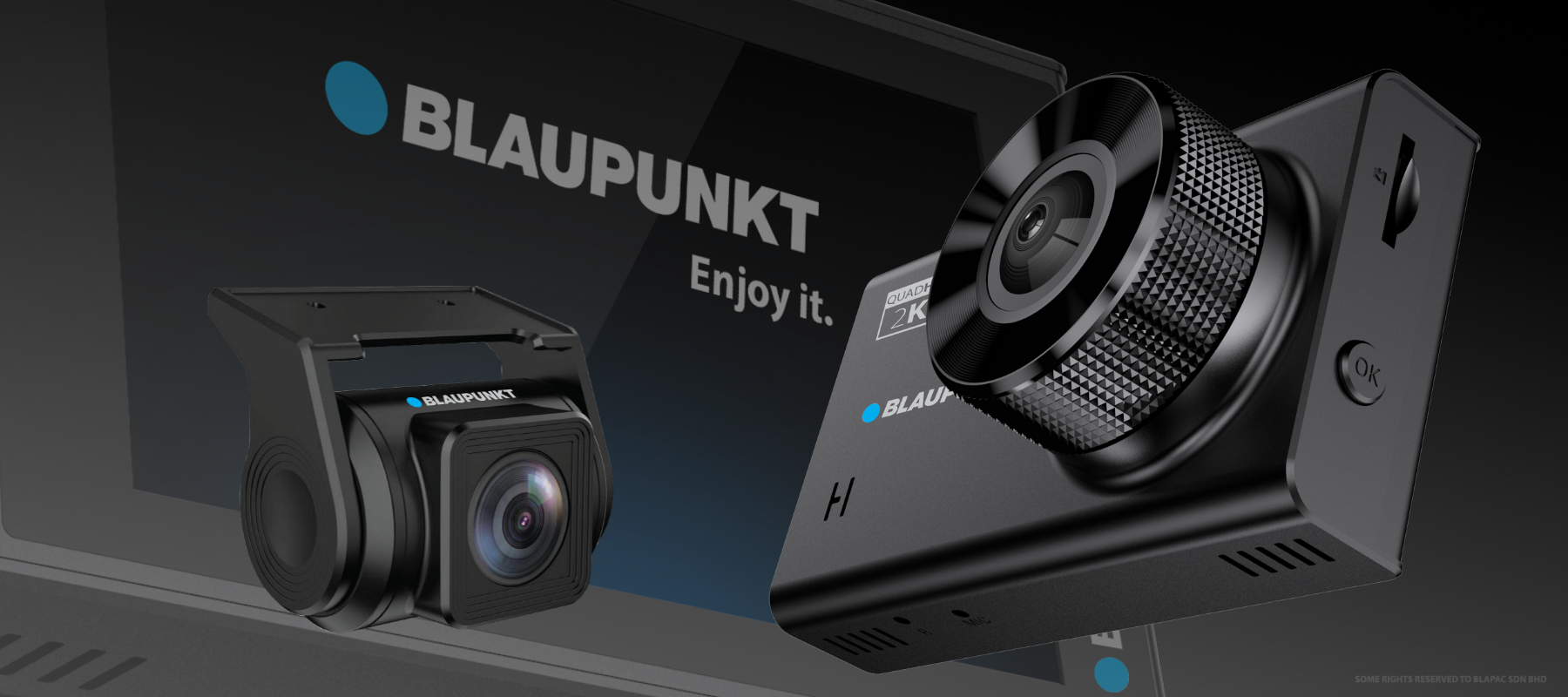 Ultra Clear 2-Channel Dashcam
Blaupunkt Driving Video Recorder BP 8.1A 2-Channel comes with frontal view dashcam to keep an eye on the road ahead of you and rear-view video recorder that records what you cannot see when your eyes are on the road. The sleek design of both cameras is meant to be provide a unique appearance in the car. With Blaupunkt DVR, it could record almost everything flawlessly.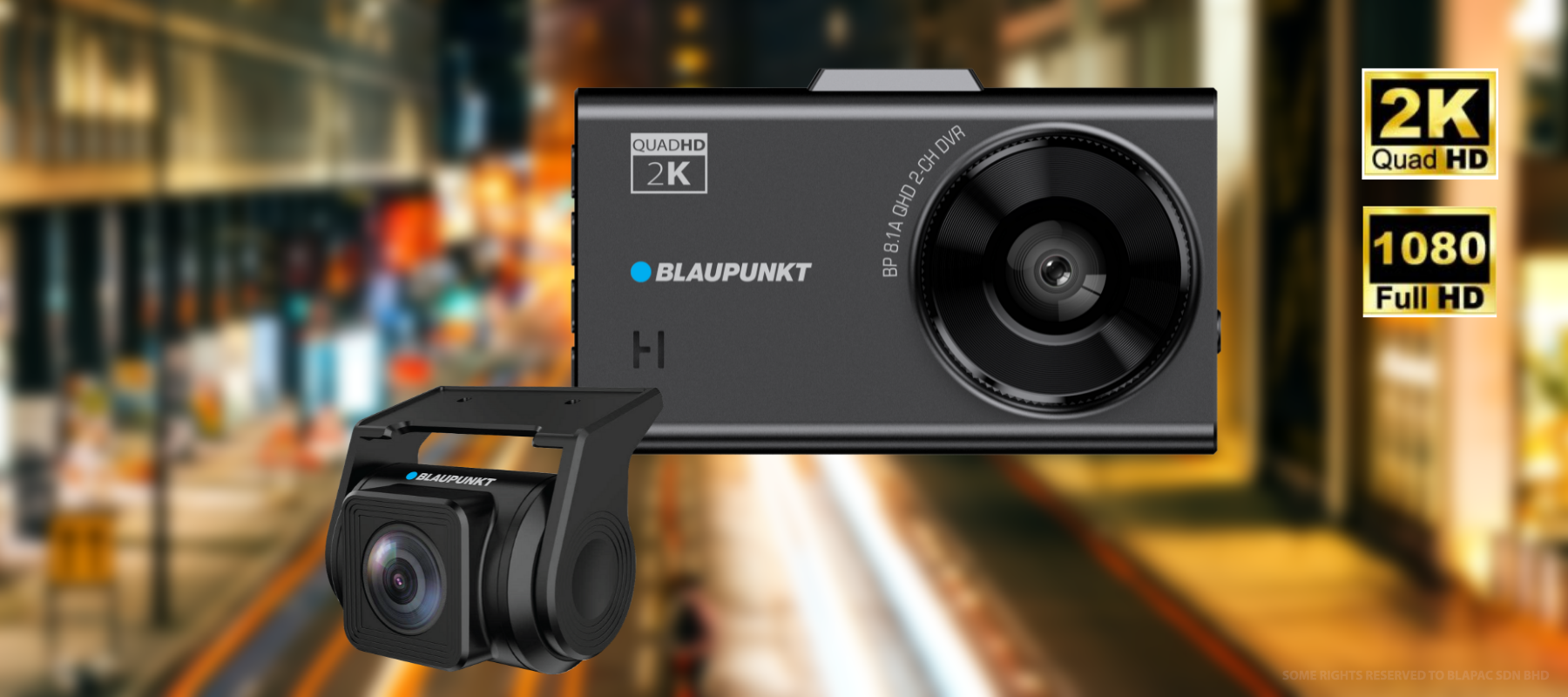 Flawless Recordings
Expect the possibilities that Blaupunkt BP 8.1A 2-Channel can provide. The front camera goes beyond boundaries with 4 Megapixel and the rear is also outstanding with 2 Megapixel. Furthermore, the front camera records at Quad 2K High Definition at 30 frames per second whereas the rear comes with a Full High-Definition quality. Both cameras are designed to record clear and crispy footages without failure.




Ultra-Wide View
The viewing angle for Blaupunkt BP 8.1A 2-Channel does not lack behind. The front camera expands its viewing angle to 140° and 110° for the rear-view camera. No side gaps will be missed out from the view of BP 8.1A 2-Channel.






3.0"LCD Screen Display
Treat it like a digital camera whenever you want to take photos with Blaupunkt BP 8.1A 2-Channel. The 3" LCD screen display allows you to have a better view at the recordings and also take photos with just a click of a button. With the LCD screen, you can look at it without having to tire your eyes.




G-Sensor
G-Sensor is also known as the accelerometer, is an intelligent function where it initiates the recordings to be saved when there is impact of collision, drastic change in speed sudden breaks and the change in speed outside the car.






Control On-The-Go
With the support of mobile app, Blaupunkt BP 8.1A 2-Channel allows you to gain control to the BP 8.1 without pressing the button on the dashcam. You can use the app to start recording and view saved footages whenever you are. Just head to the app store to download the app.




Park Monitoring With Time-Lapse
Whenever the car is parked, the dashcam records footages with Time Lapse feature. Time Lapse records footages in lesser frames per second. Once saved, the footages will be played in normal frames per seconds. This is to help conserve the storage capacity of the dashcam. In the setting, user can select one of the three duration options such as 1s, 2s, or 3s.






Voltage Cut-Off Hardwire
BP 8.1A comes with a hardwire kit to ensure consistent voltage flow during Parking Mode. The hardwire has a default low voltage cut-off function which automatically cut off power in case if voltage drops to 11.8V or 23.6V. This advanced technology ensures the DVR recordings are properly saved and prevent excessive draw of car battery.




Loop Recording
This is a key feature to prevent the Blaupunkt BP 8.1A 2-Channel from stopping its recordings. Loop Recordings allows early footages to be overwritten to make new space for new recordings. No recordings will be cut off with this function.






Super Capacitor Technology
Most common faulty reason of dashcam are caused by the backup battery. This is due to long term exposure under hot sunlight that eventually damage the little battery built in the dashcam.
To avoid this, Blaupunkt counter-remedy the possible defect by incorporating Super Capacitor Technology that provides power solution maintenance-free. This technology helps to continuously save and maintain data even during sudden shut down.
Specifications:
Resolution : Front 4MP 2K 2560x1440 (30fps) Rear 2MP FHD 1920x1080 (25fps)

Wide Viewing Angle : Front - 140°, Rear - 110°

Screen Display : Front, Rear, PIP (Picture in Picture)

3.0" LCD Screen Display

Super Capacitor Technology

Support up to 64GB Class 10 microSD

Built-in G-Sensor

Wireless Control App

Built-in Microphone & Speaker

Language : English, Chinese Simplified, Chinese Traditional, Japanese & Thailand

Power Supply : DC 12V ~ 24V

Temperature : -20°C ~ 60°C (Operating), -30°C ~ 80°C (Storage)

Support Up to 64GB Class 10 microSD

Dimension (WxHxD) : Front 85x48x35mm, Rear 45x47x38mm

Weight : Front 80g, Rear 37g (Without Cable)
Accessories:
• Bracket
• Manual
• Rear Cam Connecting Wire
• Hardwire
Subject to 3% service charges for order cancellation.
For purchase more than 10 units, drop us message here