Blaupunkt Multivolt Reverse Buzzer RB 1.0 is a reverse warning alarm designed to avoid reverse accidents.
Blaupunkt Multi-Volt Reverse Buzzer RB 2.0 is a liable safety feature that you can rely on when reversing or stuck on a road with poor visibility. There are several key features that has set the bars high for RB 2.0, with special specifications that enables the Reverse Buzzer to be 12/24V whereby it can be used for suitable range of vehicles. The RB 2.0 dissipates sound at a high level, engaging as a better warning system on the road. German engineered and designed, the quality of the Blaupunkt 12/24V Reverse Buzzer RB 2.0 lets your car to give out warning to get out of the way.
Specifications:
Key Highlights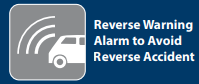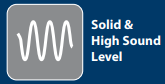 Subject to 3% service charges for order cancellation.
For purchase more than 10 units, drop us message here