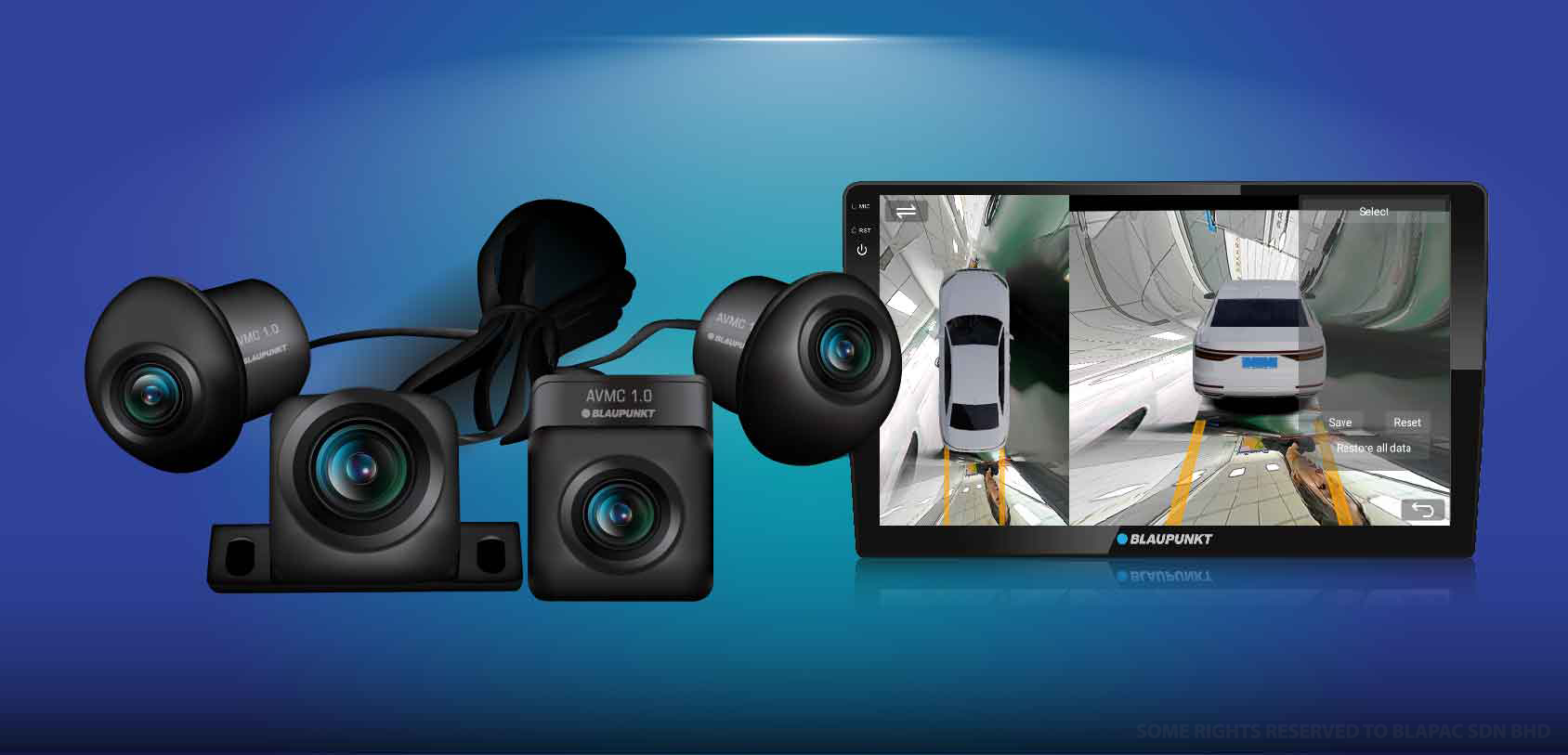 All View Monitoring Camera
Blaupunkt All View Monitoring Camera AVMC 1.0 allows you to have a 360° surrounding bird-eye view of your vehicle even when you're driving or parking your vehicle. It simply combines the perspectives of the 4 cameras in different directions and combines them into a single live video in the car player display. Using IMX8307 cameras in all directions, it generates a crystal clear 720p resolution on your car player display. Stay alert of your surrounding with Blaupunkt AVMC 1.0.


High-Definition 720P Resolution
Our vehicles should have a proper quality 360-degree camera to avoid any unforeseen scenarios. Blaupunkt AVMC 1.0 ensures that the surroundings of the vehicles are displayed in a High-Definition of 720p resolution. Drive confidently with AVMC 1.0 that is designed to provide you a bird eye view of your surroundings.




Blind Spot View
Whenever we are driving, we will definitely fear cars cruising along our blind spots. This may lead to unnecessary accidents or honking by other drivers. With the AVMC 1.0, Blind spots can be viewed through the head unit and gives you a peace of mind on the road.


New Orleans 900 DSP/1000 DSP Compatibility
Blaupunkt AVMC 1.0 is compatible with New Orleans 900 DSP / 1000 DSP which supports All View Monitoring Camera function. Experience the 360° surrounding view of the vehicle in the New Orleans 900 DSP / 1000 DSP touch screen display. This great function allows drivers to carefully park their vehicles without looking at the blind spots.


Bird Eye View
As we are driving, we will be facing possible risks of getting into an accident. This may be due to the lack of surrounding awareness while driving. Having Blaupunkt AVMC 1.0 can help reduce the risks by having a bird eye view of your surroundings without you controlling it. One of the many benefits of having Blaupunkt AVMC 1.0 is to reduce collisions when parking. During parking, AVMC 1.0 helps provide full view of your vehicle when reversing and also maneuvering into tight spots.

Specification
Chip Model : IMX8307(Camera)+NVP2431(Processing)

Camera Specifications : 1/3 inch (6mm)

Effective Pixel : 1297x977=L27MP

Image Resolution : 1000 TVL

Maximum Frame Rate : 720p HD 60fps

Dynamic Range : Support Standard Dynamic Range

Sync System : Internal

Signal Noise ratio : ≥48dB

Video Signal : 1.0Vp-p at 75ohm

Exposure Control : Automatic

White Balance : Auto

Illumination Min. : 0.001 Lux/F2.0

Operating Voltage : 3.5V~5.5V

Power input range : 3.5V~5.5V

Operating Temperature : -20~75°C
Accessories
Operating/ Installation Instruction

4 x Extension Cord (Yellow - 6.5m)/ (Red - 3.9m)/ (Blue 4.0m)/ (Black 4.0m)

1 x Wire Harness (0.2m)

Hole Saw

Rear Camera Bracket

3M Tape

4 x Grommet

4 x Tapping Screws

4x x Machine Screws