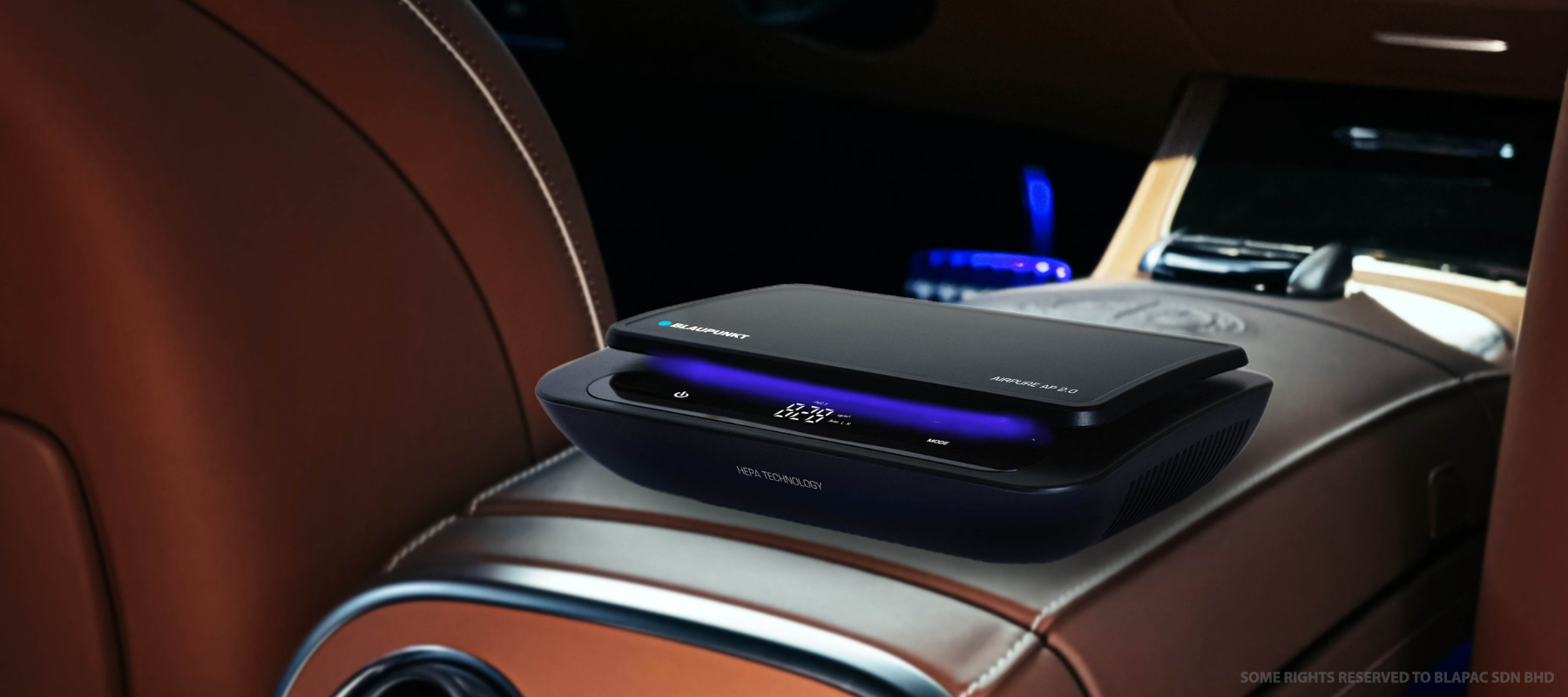 Clean Air. Safer Environment

Blaupunkt Air Purifier AirPure AP 2.0 unleashes clean air into the atmosphere within few minutes. Designed with 3-Layer Filtration System, the AirPure is able to clean the air up to 99% being able to remove several hazardous particles present in the air. With simple touch control and the convenience to plug and play at any confined space, the result is obtaining unlimited clean air. The presence of AirPure will not be noticed thanks to the low-level sound administered by the device. AirPure offer clean air to those with allergic, asthma and even younger kids. This device is essential in your especially during the haze season. Be in the car or in your room, AirPure AP 2.0 works like a charm.




Stage 1: Pre-Filter
Pre-filter layer captures big particles such as human hair, pet dander, dust, etc.
Stage 2: HEPA Filter
HEPA Filter layer removes fine particles as small as 0.3μm such as airborne allergens such as microorganisms, bacteria, viruses and pollen.
Stage 3: Activated Carbon Filter
Activated Carbon Filter layer are used to remove strong odor, Volatile Organic Compounds(VOCs) and hazardous gases in the air. Volatile Organic Compounds (VOCs) that are present in the car comprises of polymers, foam, upholstery, adhesive, carpet, coating and composite wood.
HEPA Filter H13
The HEPA (High-Efficiency Particulate Air) Filter (H13) works side by side with a pre-filter to prolong the usage life of the filter and this is a cost-saving factor as you don't need to replace the filters very often. The HEPA 13 class is devised to have 99.95% filtration rate since the filter is made of glass fibre paper.
Activated Carbon Filter
The activated carbon layer is the final filter for the air purification process. This carbon filter is made of small pieces of carbon in the form of a powdered block that traps hazardous compounds and allergens such as dust mites, smoke, dander and even mold.
Odors and Volatile Organic Compounds (VOC) that are present in the atmosphere such as polymers, foam, upholstery, adhesive, carpet, coating and composite will also be removed through the activated carbon filters, leaving behind fresh and cleaner air to breathe.
Touch Screen Technology
AirPure AP 2.0 has a touch screen panel that lets you control the device with a single touch. The seamless surface on the AP 2d.0 increases the speed of the response based on your touch and enables quick operation of the device.
AP 2.0 has an automatic on/off system that turns on the device when car ignition is on. There is also a fan speed indicator that shows the fan speed being at high or low which is displayed on the touch screen panel. Besides being so easy to use, the touching act would appear instinctive and will allow you to navigate the AP 2.0 at ease. This encourages the user-friendly concept and saves your time.
Real Time Air Quality Auto-Detection & Reading
AirPure AP 2.0 is designed to have a Smart Fan with Air Quality Sensor that enables the device to automatically adjust the fan speed based on the air quality. The auto-detection feature will let you know the quality of the air you are surrounded with through a numerical value on the screen located at the front panel.
0-50ug/m³
Good air quality

Starts to operate with low fan speed
51-99ug/m³
Average air quality

Starts to operate with high fan speed and will maintain until the air quality improves
100-999ug/m³

Poor air quality

Starts to operate with high fan speed and will maintain until the air quality improves


Filter Replacement Reminder
AirPure AP 2.0 benefits you by clearing up the air of your surroundings to prevent unwanted compounds and particles that are present. It is crucial to replace the AirPure APF 2 filter once every 6 – 12 months, based on heavy to light usage of the AirPure.
When it is time to change the filter, a beeping sound will be heard along with a red-light indicator that will appear on the touch screen panel. The beeping sound will play continuously every time. AirPure is turned on. It can be stopped by resetting the AirPure by "long press" the Power button. This is to ensure that you breathe in a safe environment.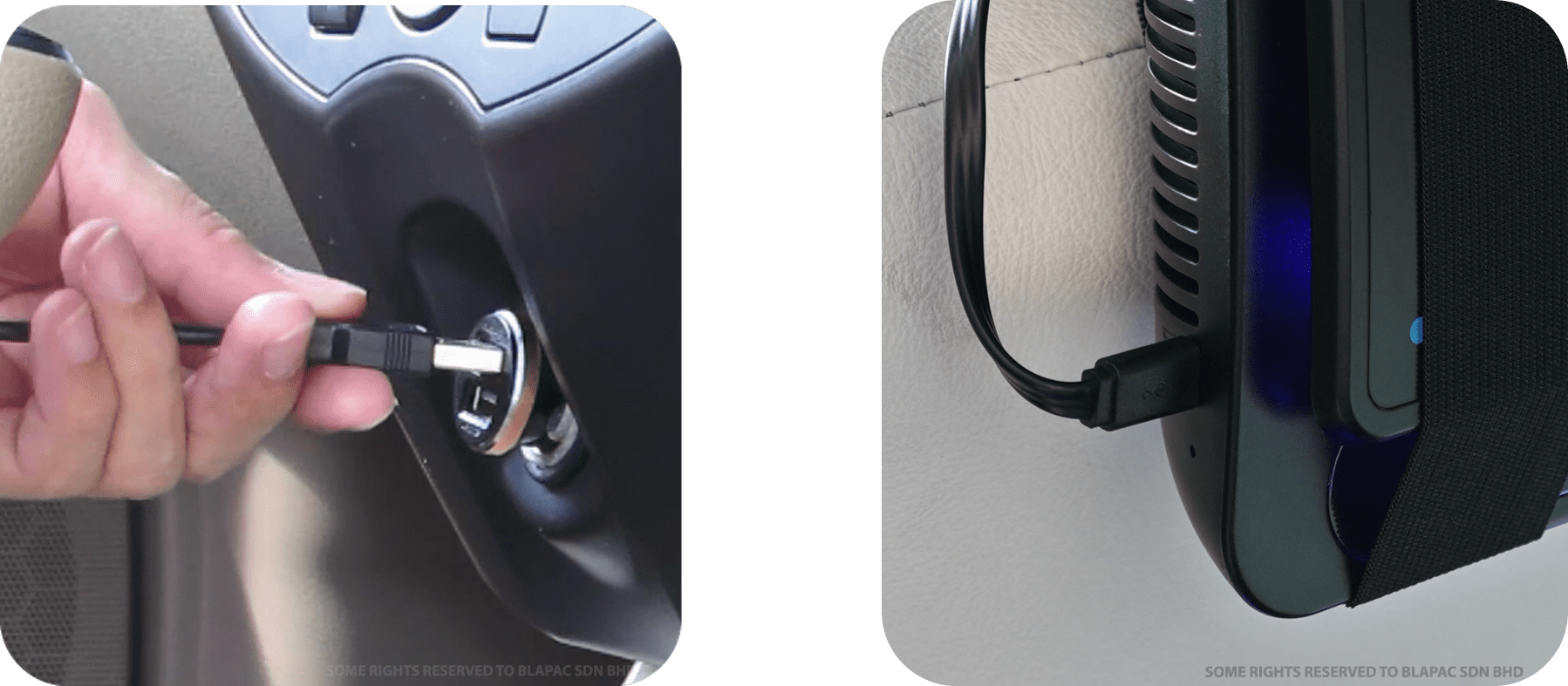 Easy Installation (Plug & Play)
To activate the AP 2.0, simply plug in the USB cable to any USB charger and voila, you'll have the air purifier activated and start filtering air from your surroundings.
Convenient Space Usage
AirPure AP 2.0 has a convenient design that enables you to keep the air purifier at almost any location in your car.
With weighing at only 500g, AP 2.0 can easily be placed on the dashboard of your car, or under the car seat, or even positioned on the armrest as we provide you with an anti-slip mat to place the air purifier in the packaging.
What's more, if you want AP 2.0 to remain out of sight, you can place it at the headrest of your car seat with the aid of car headrest holder which also comes with the packaging.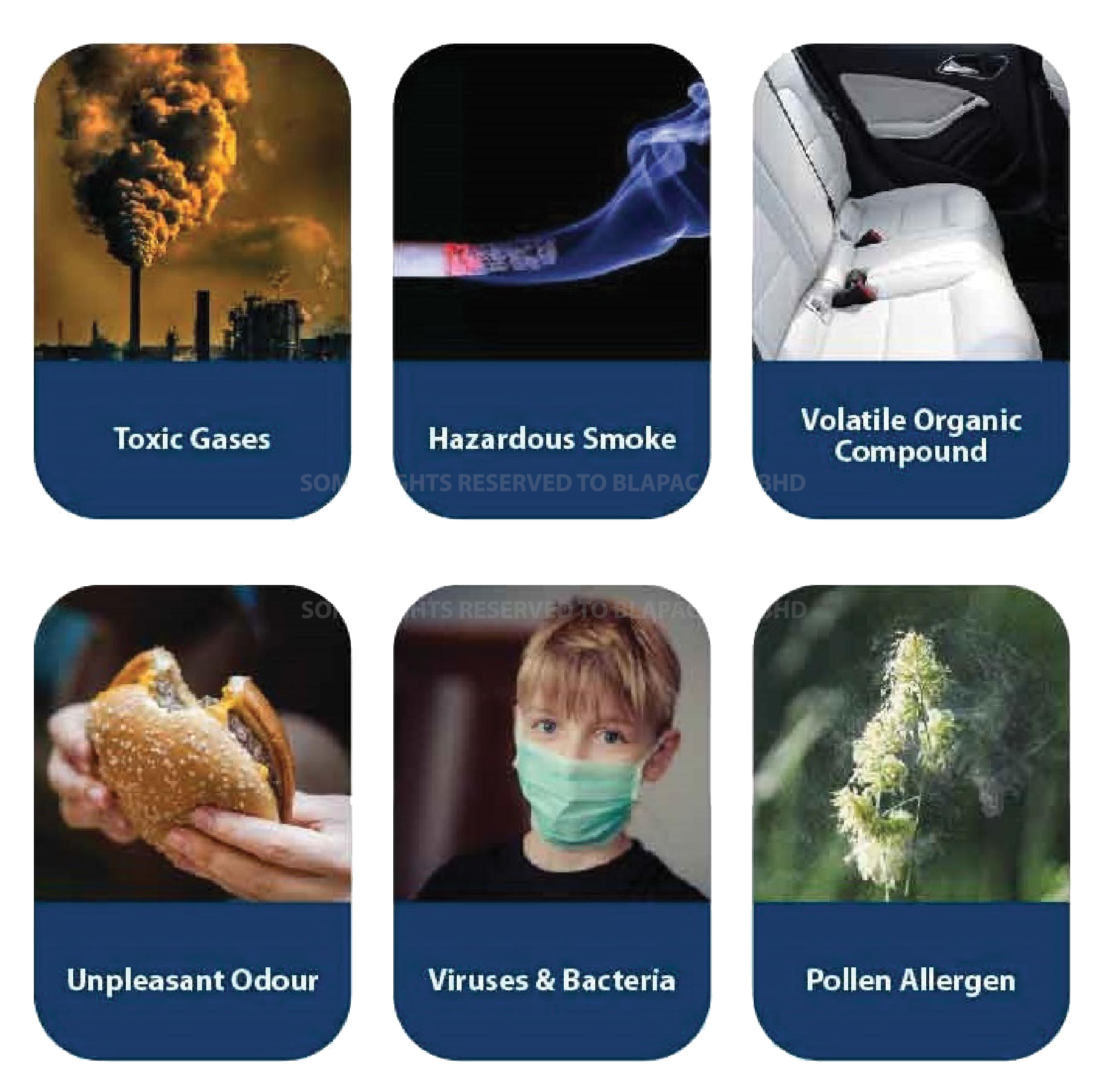 Eradicate Air Pollutants
Highly efficient collector with a high air circulation rate makes the AP 2.0 effective in collecting pollutants from indoor air. Air Pure AP 2.0 has been equipped with a filter that does 3-layer filtration to maximize the air disinfection ensuring you only breathe quality air. Wherever AP 2.0 is, it will always be ready to clean up to 99% of the air ensuring everyone receives clean air.
Specifications
Indicator Display: PM2.5 Level, Filter Replacement Reminder, Auto/Manual Fan Speed

Pre-packed with Blaupunkt AirPure Filter (APF2)

Noise Level: <55dB

Fan Type: Centrifugal Fan

EPA Filter Grade: H13

Applicable For Space: 5m3 – 10m3

Input Voltage: 5V

Current: 1A

Power: <7W

Dimensions: 200 x150 x 55mm

Net Weight: 500g
Accessories
4m Cable

USB Charger

Car Headrest

Anti-slip Mat