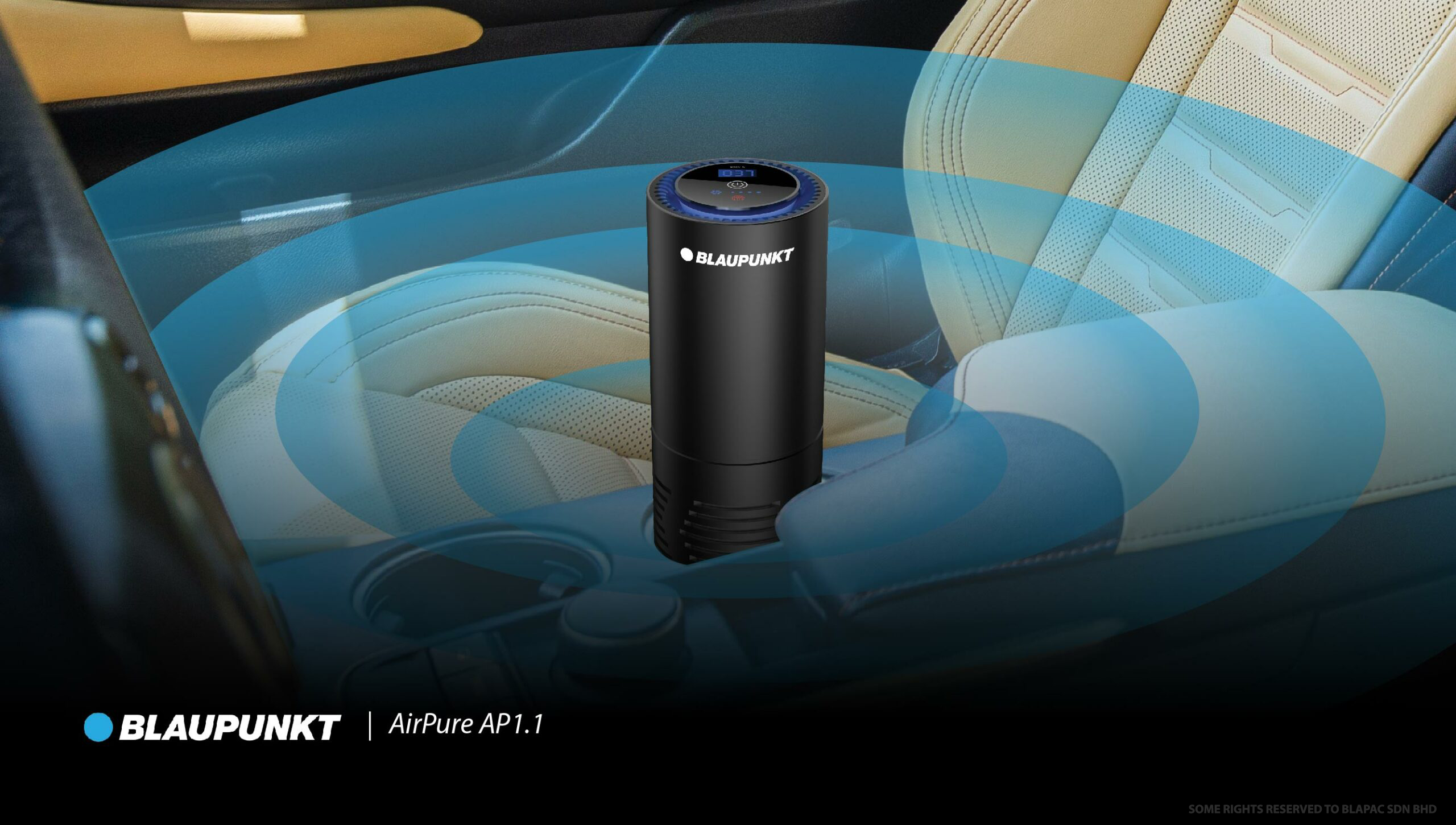 Purify The Air

Blaupunkt Air Purifier AirPure AP 1.1 unleashes clean air into the atmosphere within the applicable area ranging from 3-10m³. Designed with 3-layer filtration system , the AirPure is able to clean the air up to 99% being able to remove several hazardous particles present in the air. With simple touch control and the convenience to plug and play at any confined space, the result is obtaining unlimited clean air. The presence of AirPure will not be noticed thanks to the low level sound administered by the device. AirPure offer clean air to those with allergic, asthma and even younger kids.




Stage 1: Pre-Filter
Pre-filter layer captures big particles such as human hair, pet dander, dust, etc.
Stage 2: HEPA Filter
HEPA Filter layer removes fine particles as small as 0.3μm such as airborne allergens such as microorganisms, bacteria, viruses and pollen.
Stage 3: Activated Carbon Filter
Activated Carbon Filter layer are used to remove strong odor, Volatile Organic Compounds(VOCs) and hazardous gases in the air. Volatile Organic Compounds (VOCs) that are present in the car comprises of polymers, foam, upholstery, adhesive, carpet, coating and composite wood.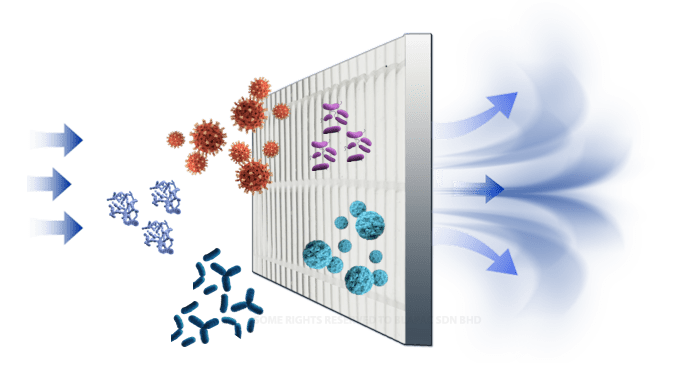 HEPA Filter H11
The HEPA (High-efficiency particulate air) Filter (H11) works side by side with a pre-filter to prolong the usage life of the filter and this is a cost-saving factor as you don't need to replace the filters very often.
The HEPA 11 class is devised to have 95% filtration rate since the filter is made of glass fibre paper. In other words, AP 1.0 uses HEPA filter H11 to trap 99.9% of fine particles as small as 0.3 μm such as airborne allergens that comprises microorganisms, bacteria, viruses and pollen from the atmosphere.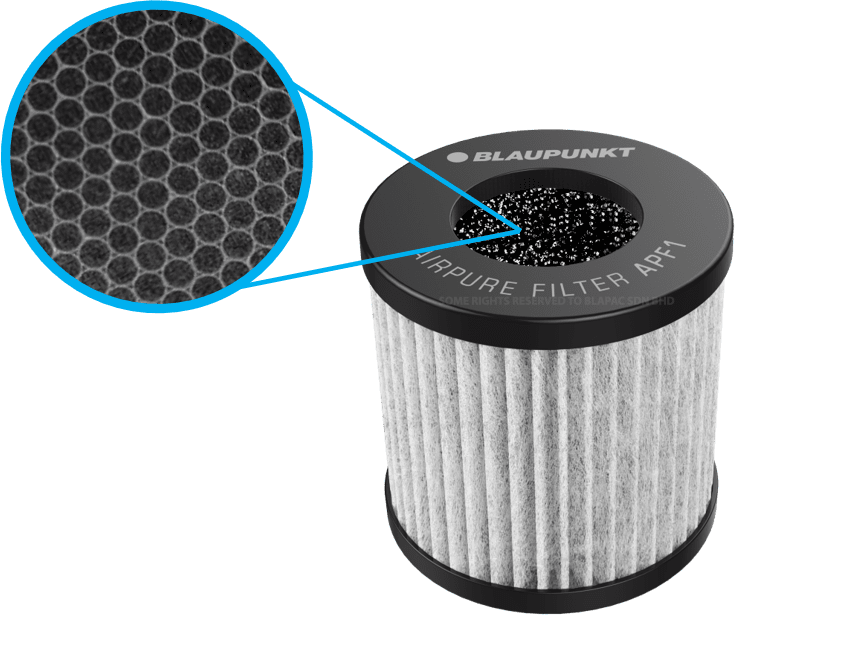 Activated Carbon Filter
The activated carbon layer is the final filter for the air purification process. This carbon filter is made of small pieces of carbon in the form of a powdered block that traps hazardous compounds and allergens such as dust mites, smoke, dander and even molds.
Odors and Volatile Organic Compounds (VOC) that are present in the atmosphere such as polymers, foam, upholstery, adhesive, carpet, coating and composite will also be removed through the activated carbon filters, leaving behind fresh and cleaner air to breathe.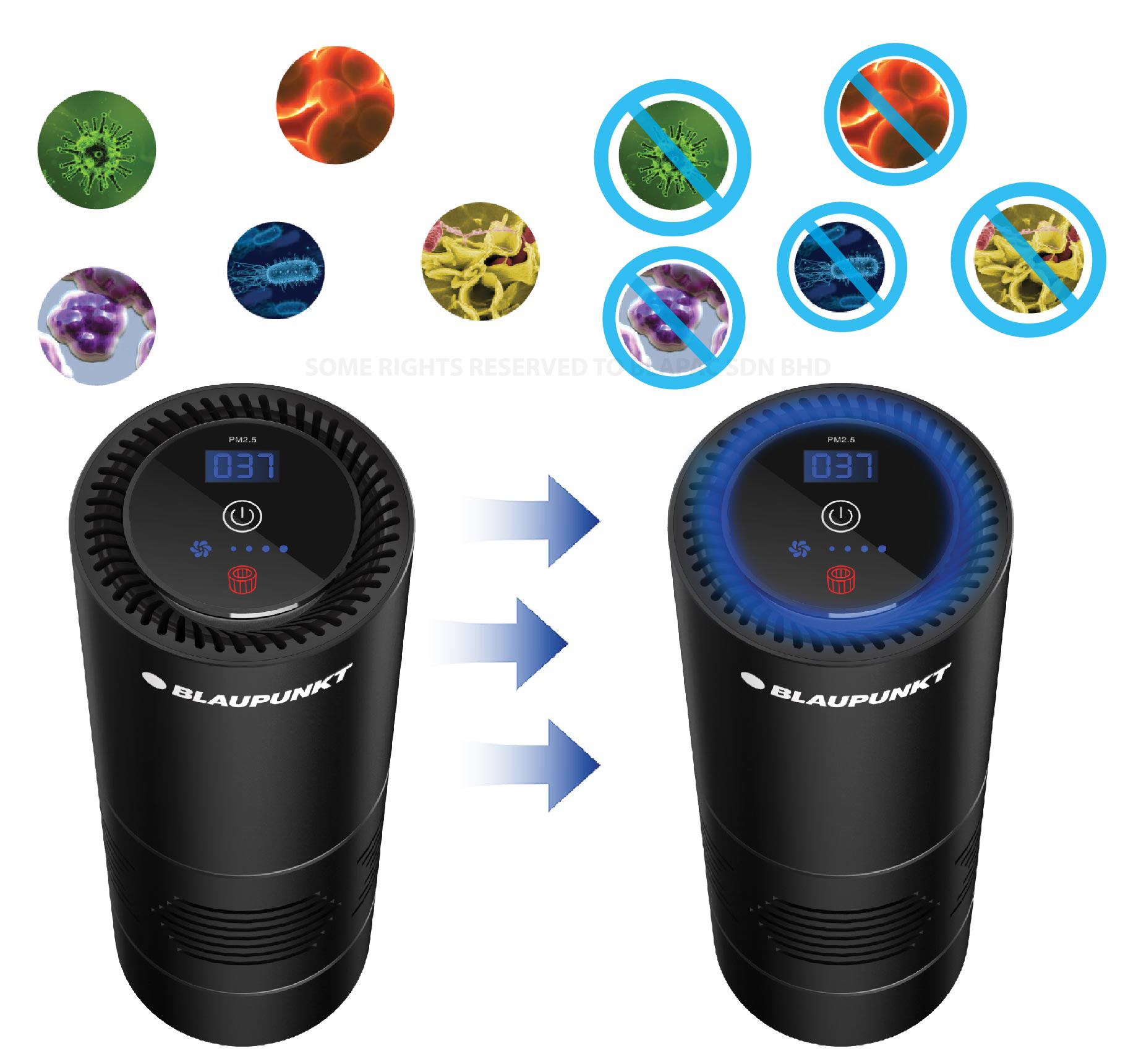 UV Germicidal Lamp
AirPure AP 1.1 has a built-in germicidal lamp to improve the air quality of your surroundings. You don't need to worry about the microscopic organisms that can cause infection to you and your loved ones.
The ultraviolet emitting germicidal lamp produces UV light waves that cause disruption in the bonds in the DNA. Due to the disruption, all of the bacteria are killed during this process.
Having the ultraviolet technology within the air purifier is a good way to sterilise the air in a non-chemical way.
*UV light, HEPA filter and Activated Carbon Filter provides sterilization efficiency up to 99%.
*UV light will be activated when AirPure is turned on.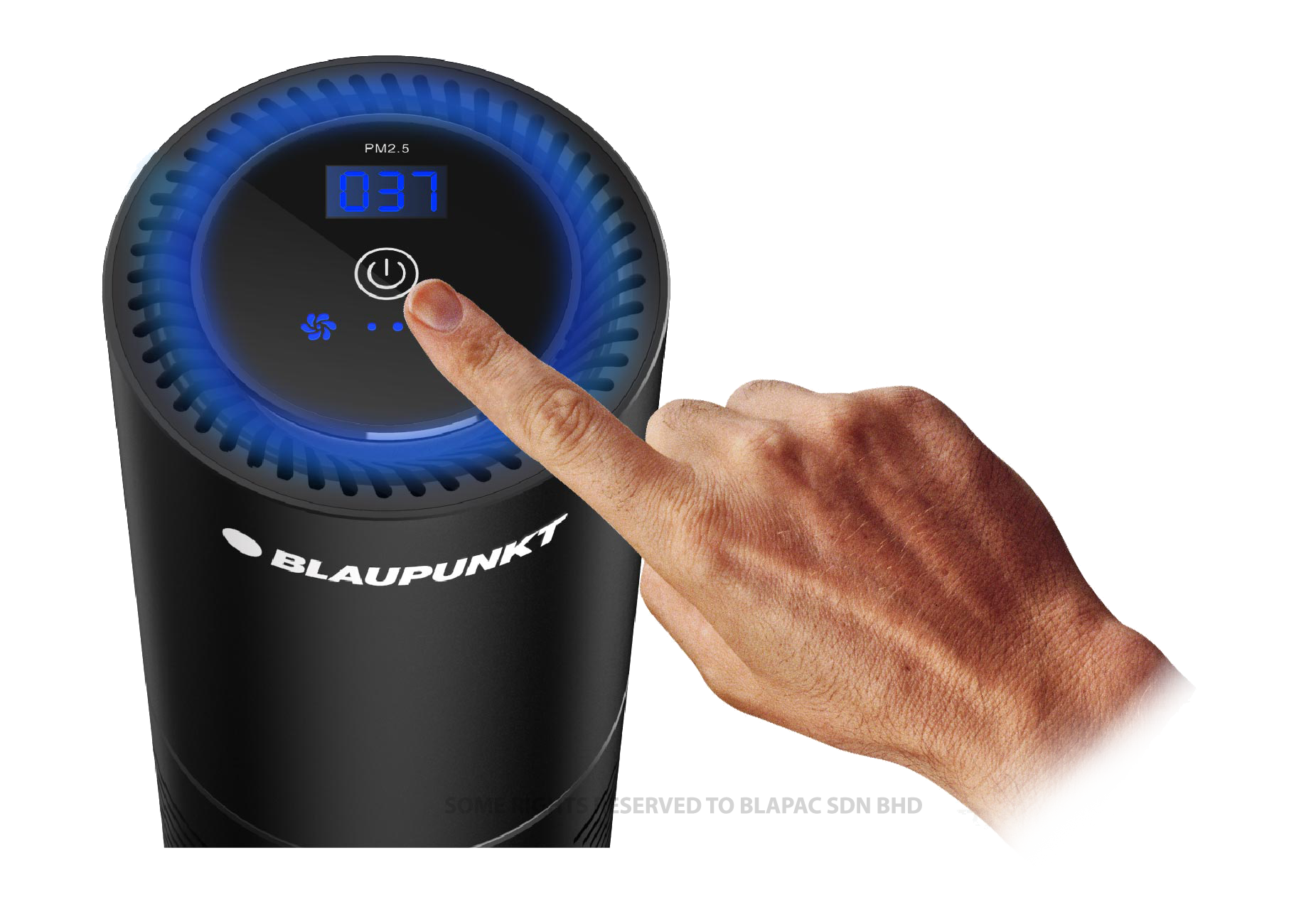 Touch Screen Technology
AirPure AP 1.1 has a touch screen panel that lets you control the device with a single touch. The seamless surface on the AP 1.1 increases the speed of the response based on your touch and enables quick operation of the device.
AP 1.1 is so easy to use because the device has an automatic on/off system that turns on the device when car ignition is on. Besides being so easy to use, the touching act would appear instinctive and will allow you to navigate the AP 1.1 at ease. This encourages the user-friendly concept and saves your time.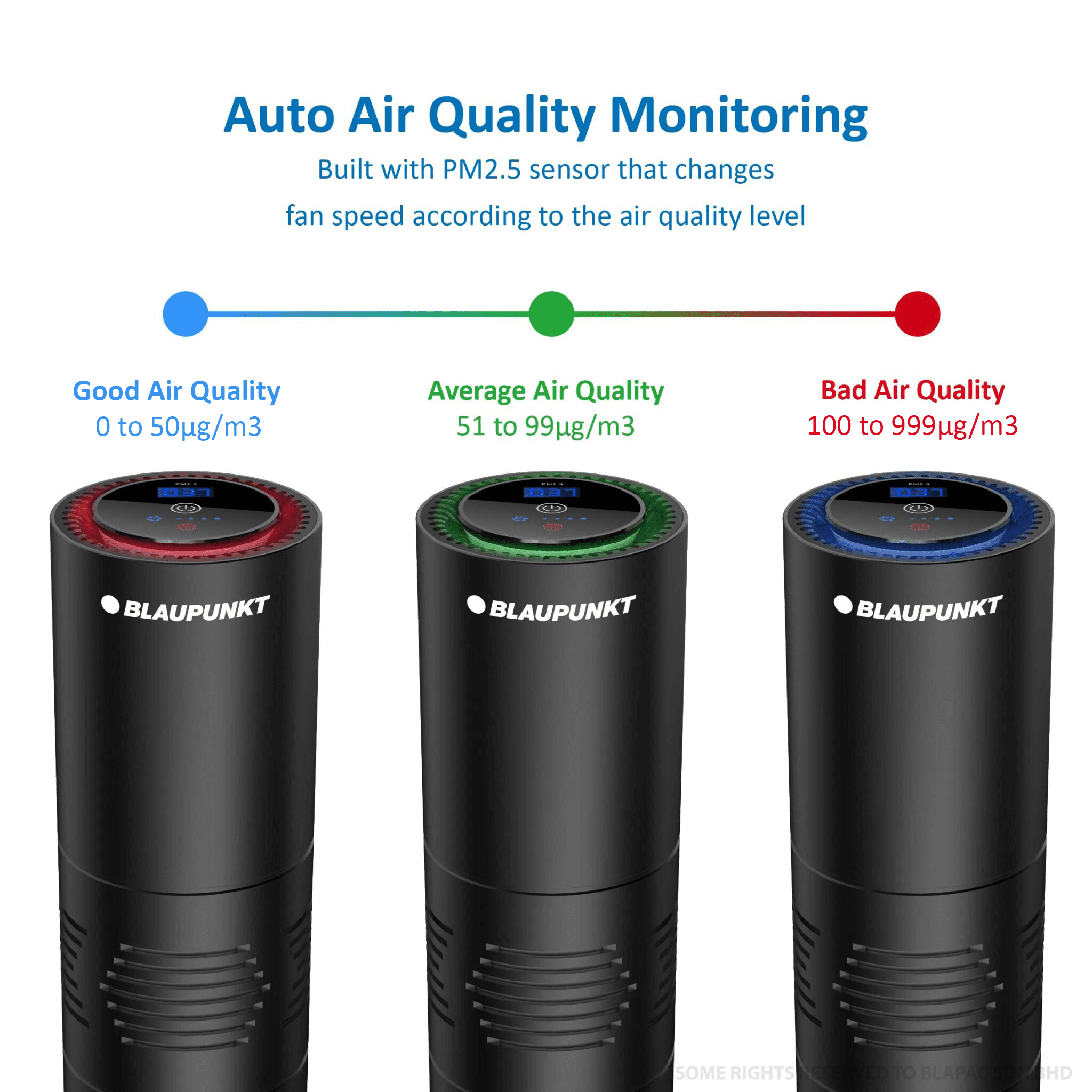 Real TimeAir Quality Auto-Detection & Reading
AirPure AP 1.1 is designed to have a Smart Fan with Air Quality Sensor that enables the device to automatically adjust the fan speed based on the air quality. The auto-detection feature will let you know the quality of the air you are surrounded with through the changing of three colour indicators. Each colour represents different air quality. Another amazing specification is the technological implementation in AirPure AP 1.1 that enables automatic change in fan speed based on the air quality.
Blue Indicator (0-50ug/m³) .
Good air quality

Starts to operate with low fan speed
Green Indicator (51-99ug/m³)
Average air quality

Starts to operate at high fan speed and will maintain until the air quality improves.
Red Indicator (100-999ug/m³)
Poor air quality

Starts to operate at high fan speed and will maintain until the air quality improves.

Filter Replacement Reminder
AirPure AP 1.1 benefits you by clearing up the air of your surroundings to prevent unwanted compounds and particles that are present.
It is crucial to replace the AirPure APF 1 filter once every 6 ~ 12 months, based on heavy to light usage of the AirPure. When it is time to change the filter, a beeping sound will be heard along with a red light indicator that will appear on the touch screen panel.
The beeping sound will play continuously every time. AirPure is turned on. It can be stopped by resetting the AirPure by "long press" the Power button. This is to ensure that you breathe in a safer.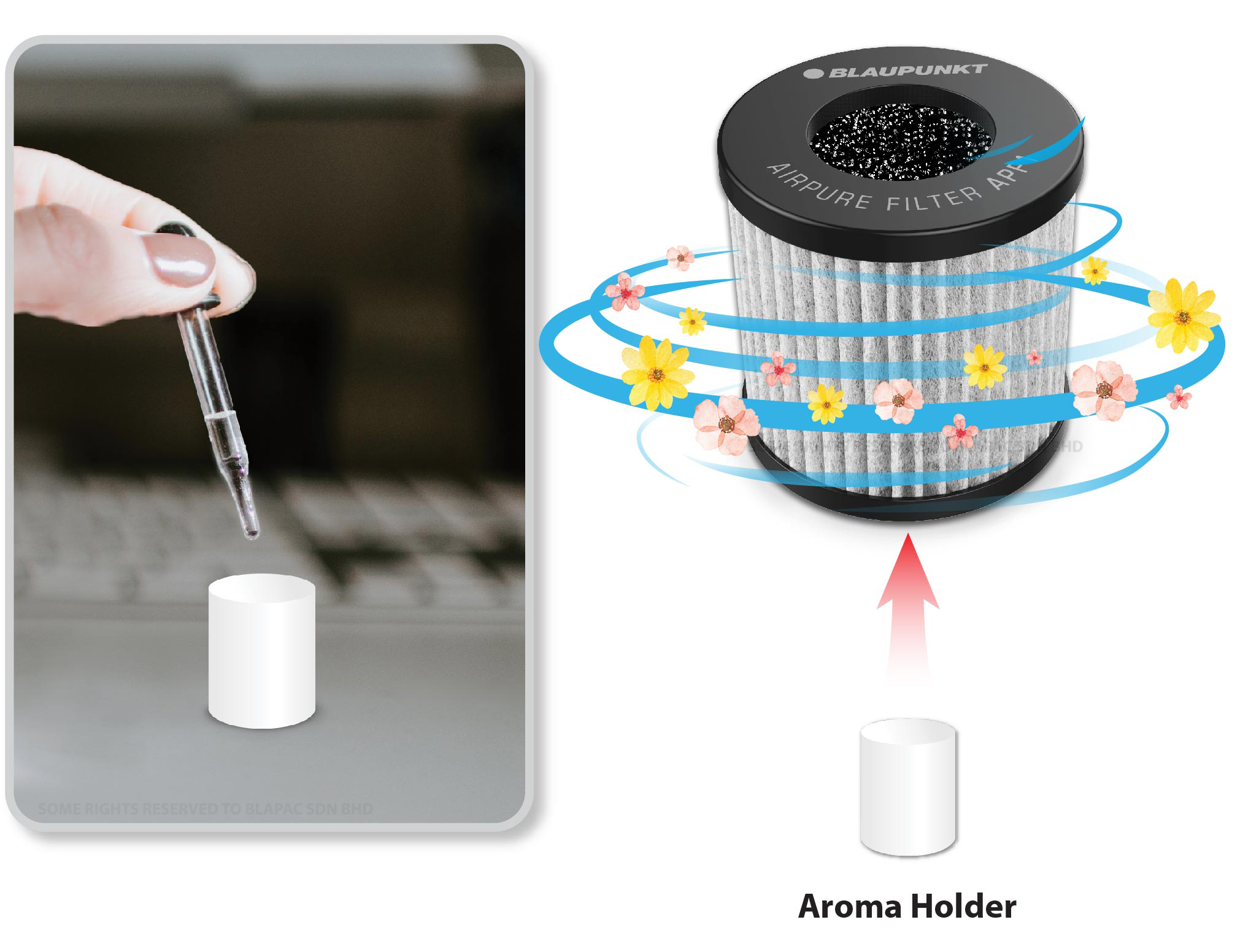 Aromatherapeutic
AirPure AP 1.1 has a special aroma holder that is kept within the filter cartridge of the filter. If you are someone that enjoys essential oils and perhaps you don't want your car to have a bad smell, you can have a few drops of your favourite essential oils onto the aroma holder and the AP 1.1 does its magic.
The aroma holder will quickly infuse the essential oil into the air while at the same time let AP 1.1 sanitize the air in the confined space. The aroma holder is made of Polypropylene Cotton which means the cotton is moisture wicking and light, so the oil can easily infuse into the atmosphere.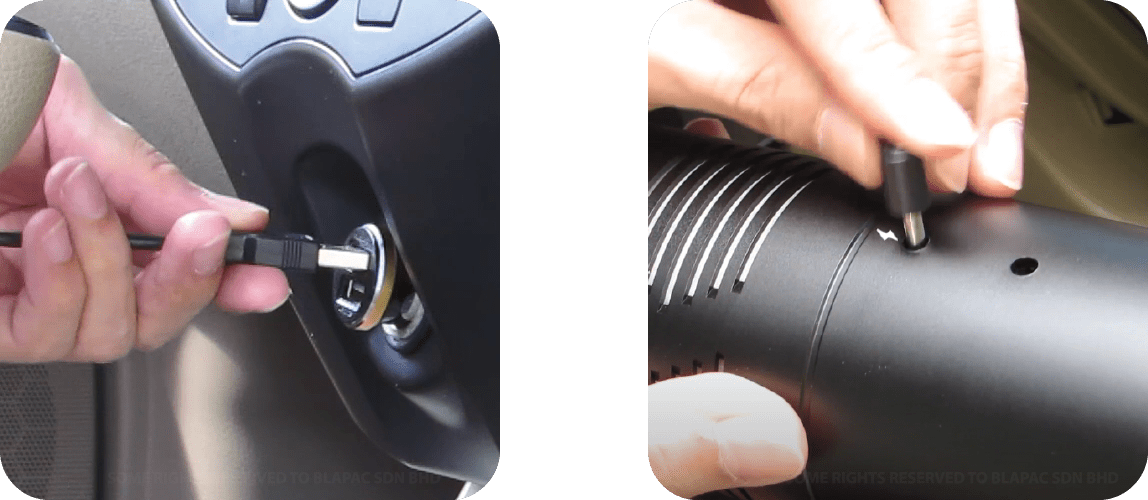 Easy Installation (Plus & Play)
Simply position AP 1.1 into your cup holder in your vehicle, plug in the USB cable to any USB charger and voila, you'll have the Air Purifier activated and start filtering air.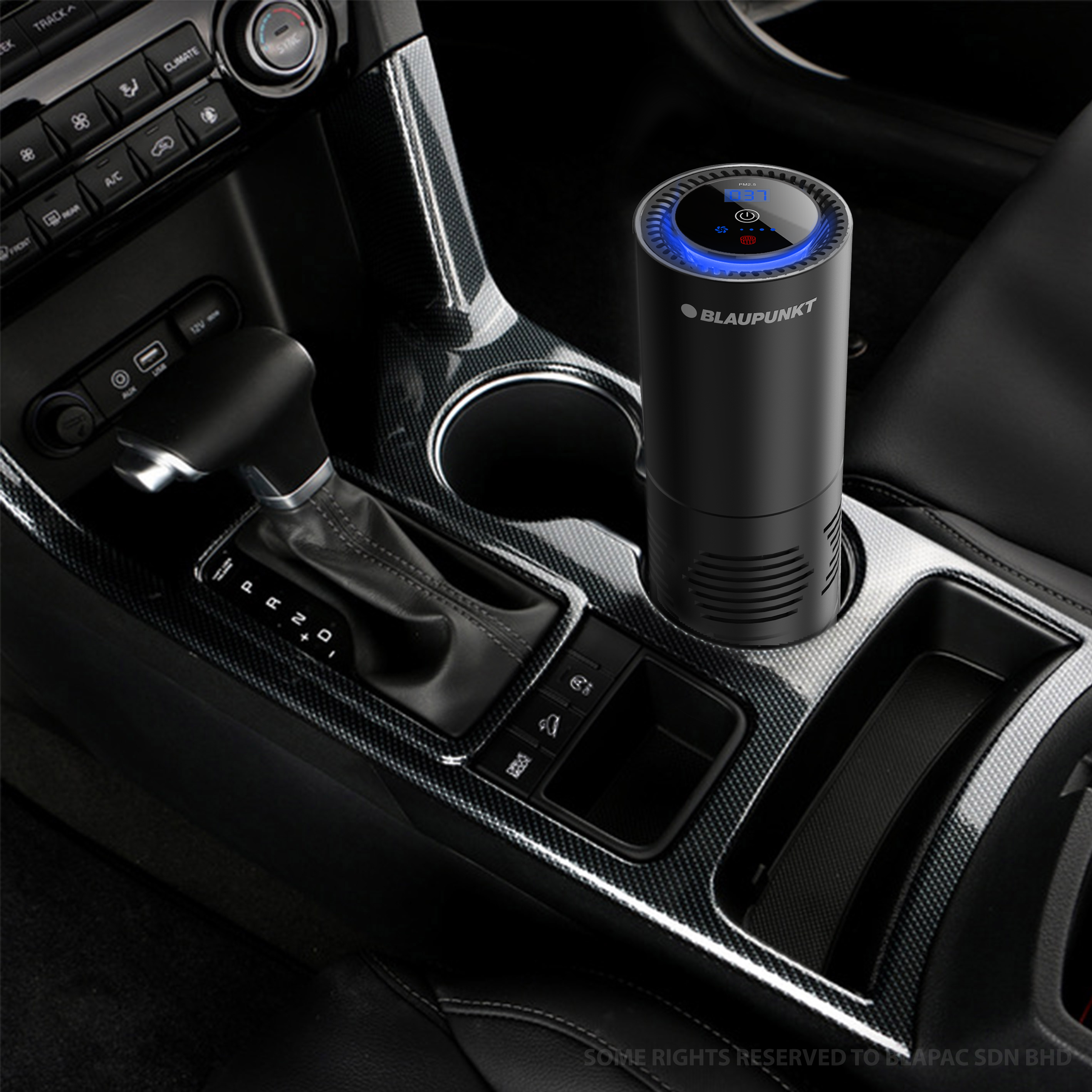 Convenient Space Usage
AirPure AP 1.1 has a convenient design that enables you to keep the air purifier at the most suitable and seamless location in your vehicle. With weighing at only 425g, AP 1.1 can easily be positioned on the cup holder in your vehicle.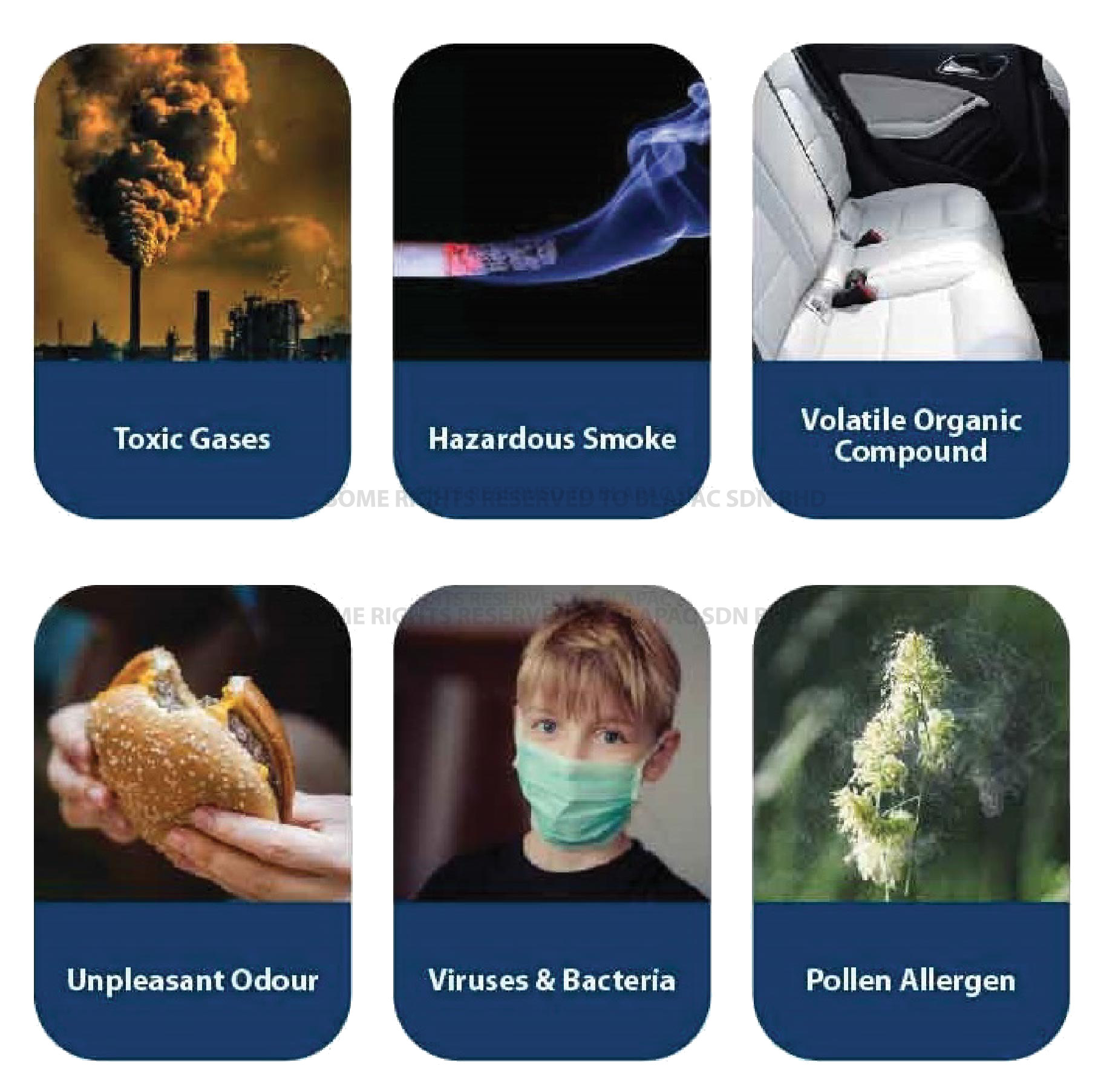 Eradicate Air Pollutants
AirPure AP 1.1 has been equipped with a filter that does 3-layer filtration to maximise the air disinfection.
The Environmental Protection Agency (EPA) has stated that indoor air pollutants may be two to five times higher than the levels outdoors. And, like most people, we spend about 80-90% of our time inside. Besides that, there are many people who are diagnosed with asthma and dust allergies.
The most common contaminants that trigger allergies and asthma include dust, pollen, mold, pet dander, tobacco smoke and airborne chemicals. Therefore, almost every person can benefit from the use of AP 1.1 literally in every place, does not limit to just in-car usage, in fact, you can even use it in your bedroom, bathroom, or any confined space.
Specifications
Indicator Display : PM2.5 Level, Filter Replacement Reminder, Auto / Manual Fan Speed

Pre-packed with Blaupunkt Airpure Filter (APF1)

Fan type : Double inlet DC Turbo Fan

Ultraviolet Wavelength : 253.7mm

Applicable for space : 5m3 - 11m3

Dimensions : 71mm x 195mm
Accessories
Operating / Installation Instruction