AP 1.1 | Blaupunkt Air Purifier AirPure
Blaupunkt Air Purifier AP 1.1
Indicator Display : PM2.5 Level, Filter Replacement Reminder, Auto / Manual Fan Speed

Pre-packed with Blaupunkt Airpure Filter (APF1)

Noise Level : <35dB

Fan type : Double inlet DC Turbo Fan

HEPA Filter Grade : H11

Ultraviolet Wavelength : 253.7mm

Applicable for space : 5m3 - 11m3

Input Voltage : 5V

Current : 1A

Power : <5W

Dimensions : 71mm x 195mm

Net Weight : 425g

Accessories : USB Power Cable
Blaupunkt Air Purifier Airpure 1.1 unleashes clean air into the atmosphere within the applicable area ranging from 3-11m3. Designed with 3-layer filtration system , the Airpure is able to clean the air up to 99% being able to remove several hazardous particles present in the air. With simple touch control and the convenience to plug and play at any confined space, the result is obtaining unlimited clean air. The presence of Airpure will not be noticed thanks to the low level sound administered by the device. Airpure offer clean air to those with allergic, asthma and even younger kids. During Haze season, this device is an essential in the car. Be in the car or in your room, Airpure AP1.1 works like a charm.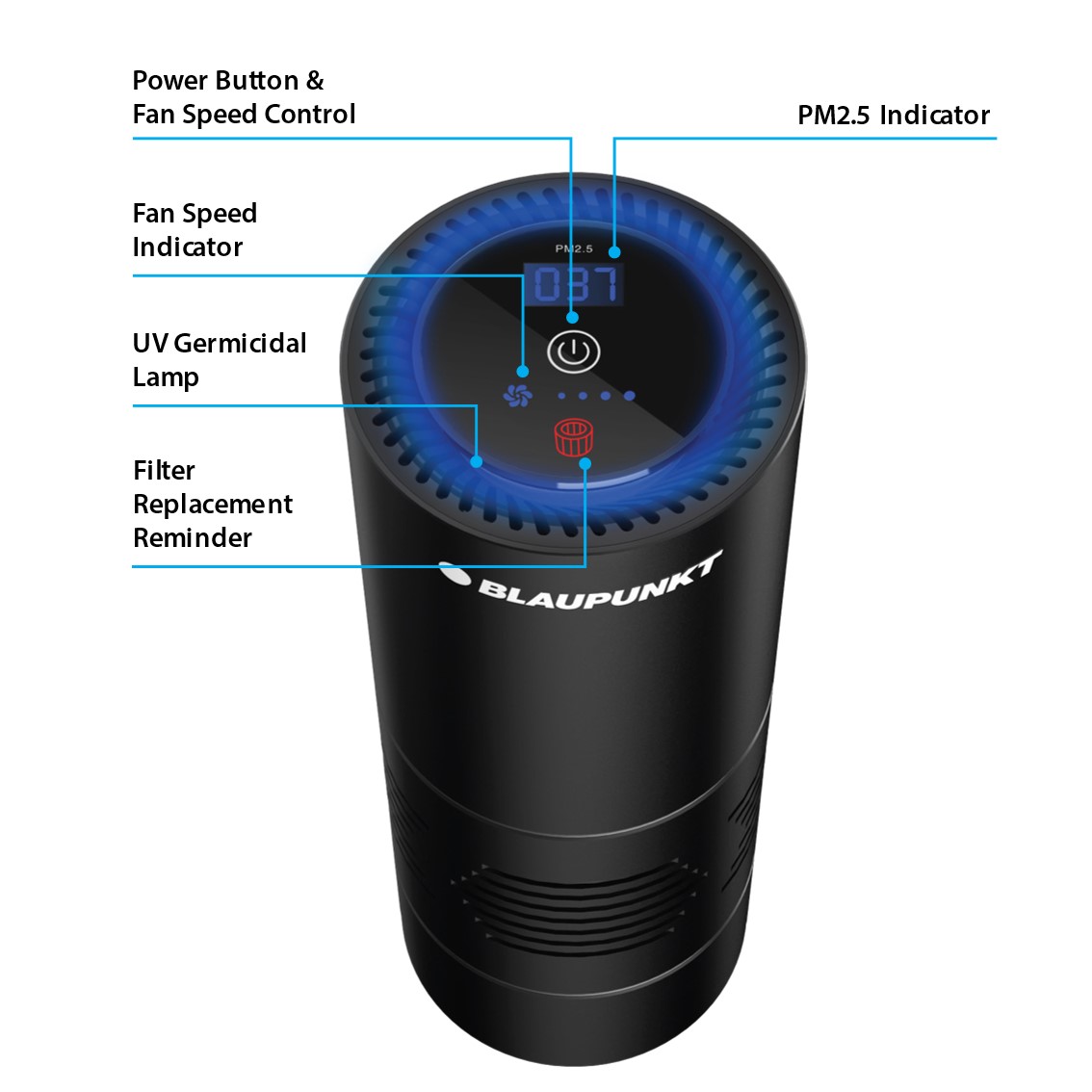 Blue Indicator




Good Air Quality
PM2.5 Value : 0 to 50µg/m³
Begin operating at auto-detection status with low fan speed.

Green Indicator

Average Air Quality
PM2.5 Value : 51 to 99µg/m³
Switch fan to high speed automatically.



Red Indicator

Bad Air Quality
PM2.5 Value : 100 to 999µg/m³
Maintain at high fan speed.



Filter Replacement Reminder


Red Indicator - Remind user to check the filter condition when it reaches 300 hours of working time.






Blaupunkt air purifier AP 1.1 is able to filter and improve the air quality in your car and anywhere else. The device is designed emphasize on Plug & Play.
It uses UV light, HEPA filter and Activated Carbon filter to filter air pollution, offering sterilization efficiency up to 99%.

Pre Filter
Removes big particles such as pet hairs, dust & dirt
HEPA Filter
Filters particle 2.5μm such as viruses, bacteria & hazardous smoke
Activated Carbon Filter
Removes volatile organic compound (VOC) such as formaldehyde, toluene & benzene
For purchase more than 10 units, drop us message here
Customer comments
| Author/Date | Rating | Comment |
| --- | --- | --- |