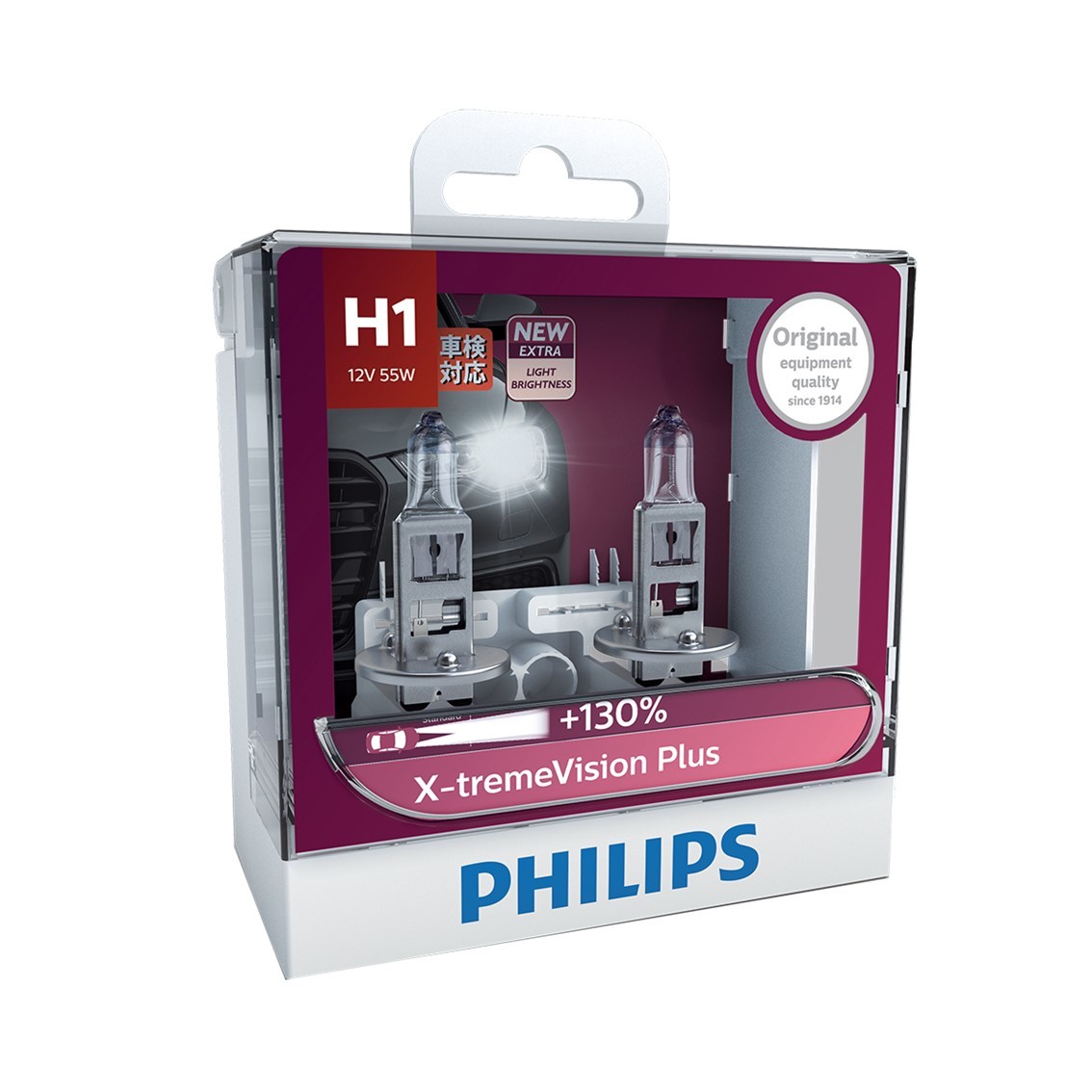 X-tremeVision Plus headlamp l Philips
Feel safe, drive safe
Having 2 more seconds to react makes a difference on the road. With Philips X-tremeVision Plus you will have 130% more light and a superior beam of up to 130 meters, so you see further, react faster and drive safer. X-tremeVision Plus headlights are available in H1, H4 and H7.
Up to 130% brighter light
Perfect illumination is especially imprtant in the distance - usually between 75-100 meters in front of your vehicle. With Philips X-tremeVision Plus car bulbs you can see up to 45 meters further, giving you 2 seconds more reaction time. Philips X-tremeVision Plus car lamps boosts your visibility with up to 130% more light on the road. This helps you recognize obstacles and any potential dangers earlier than with any other halogen headlamp.
20% whiter light to improve comfort and safety
The bright white light (3700 K) is up to 20% whiter than standard headlamps. The Philips patented gradient coating technology™ produces a more powerful light. So you can enjoy the brightest lighting performance and a highly comfortable night driving experience.
A lifetime of safety
Philips X-tremeVision Plus headlights are engineered for the ultimate in visibility and performance. Thanks to Philips optimized high-precision filament technology, precision coating and high quality UV-Quartz glass, they produce up to 130% brighter light without compromising lifetime. Philips X-tremeVision Plus is optimized for a reliable lifetime so that you can see and be seen on the road.
Philips is the choice of all major car manufacturers
For 100 years, Philips has been on the forefront of the automotive lighting industry, introducing technological innovations that have become standard on modern automobiles. Today, one in two cars in Europe and one in three worldwide is equipped with Philips lighting.
Change both your headlamps at once for more safety
Highly recommended to change them by pairs for symetric light performance.
Wide range of 12V lamps to meet all functions
Which 12V lamp for which function ? Philips Automotive offering includes all car specific functions : high beam, Low beal, front fog , front indicator, side indicator, rear indicator, stop light, reversing light, rear fog light, license plate lights, rear position/parking light, interior lights.
Greater driving comfort and safety
X-treme Vision provides you with a better reactivity thanks to an earlier recognition of obstacles and traffic signs. Light is a fundamental part of the driving experience and light is the first and only part of the safety circle that actually helps prevent accidents. Philips promotes active safety protection to prevent accidents by increasing overall visibility and road illumination.
Award winning car lamp manufacturer
Our lamps are often rewarded by automotive experts
Respecting high quality standards of the ECE homlogation
Philips Automotive is dedicated to producing best-in-class products and services in the Original Equipment Manufacturer market as well as in aftermarket. Our products are manufactured from high-quality materials and tested to the highest specifications to maximize the safety and driving comfort of our customers. Our entire production is meticulously tested, controlled and certified (ISO 9001, ISO 14001 and QSO 9000) to the highest ECE requirements.
Description:
100% more light for complete control compared to a standard lamp

Projects a beam 35m longer than standard bulbs

Long lasting than other high performance halogen bulbs compared to Philips high-performance halogen products

Street legal

Trusted OE quality

UV-blocking quartz glass
For purchase more than 10 units, drop us message here
Customer comments
| Author/Date | Rating | Comment |
| --- | --- | --- |