Vision LED Stop/tail l Philips
Philips Vision LED Stop/tail
Available in :
| | | | | |
| --- | --- | --- | --- | --- |
| | P21 LED 12839 | W21 LED 12838 | P21/5 LED 12836 | W21/5 LED 12835 |
| Technology | LED | LED | LED | LED |
| Application | Stop light | Stop light | Stop light & tail light | Stop light & tail light |
| Base | WX3x 16d | BAY15D | WX3x 16d | BA155 |
| Type | P21W | W21 | P21/5 LED 12836 | W21/5 LED 12835 |
| Color temperature | Red | Red | Red | Red |
| Lifespan | 12 years | 12 years | 12 years | 12 years |
| Lumens | 50 lm | 50 lm | 50 lm | 50 lm |
| Voltage | 12V | 12V | 12V | 12V |
| Wattage | 2W | 2W | 2W | 2W |
1. An ideal replacement
A breakthrough innovation for your car lighting: Replace your conventional car bulbs with long-lasting Philips Vision LEDs. You won't have to replace them again, as they will outlast the lifetime* of your car. Vision LED ensures a safe and convenient replacement for conventional incandescent bulbs.
Vision LED's unique innovative design, provides high-level unmatched robustness and vibration resistance for 12+ years' lifespan. You will likely never need to replace your lights. The Vision range is currently available for stop & taillights, interior lighting, license plate lighting and parking lights.
*car lifetime = 12 years of non-commercial usage


Vision LED lights will provide you peace of mind for years to come.
12-year limited warranty. Click here to register for the warranty of your Vision LED bulbs.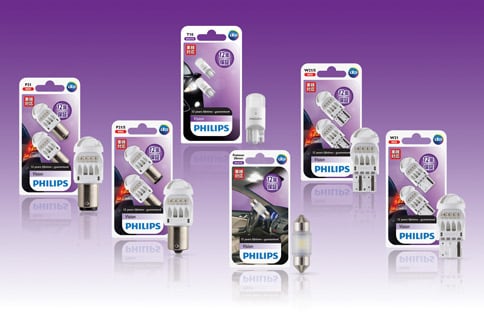 2. Peace of mind - Long lasting LED to fit and forget
Obtain peace of mind by replacing your standard car lights with long-lasting Philips Vision LED bulbs. They are ideal replacements for incandescent bulbs and are resistant to extreme heat and high vibrations.
By replacing your filament bulbs with these advanced LEDs you can avoid yearly trips to the garage to replace your broken light bulbs whilst keeping you and your family safe on the road – Vision LED lights have been designed to outlast your car! And, we are so confident about our Vision LED lights that we include a Philips 12-year warranty with the purchase.

3. Be noticed - Faster signalling light-up for improved driving safety
Conventional incandescent bulbs take a little time to light up.
But Vision LED bulbs light up instantly.
That means, when you brake, the driver behind you should be able to react sooner because you can be noticed faster. The instant-on response provided by Vision LED bulbs can reduce braking distance by up to 6 meters at a speed of 100 km/h, making everyone in the car feel safer on the road.
That's a safety benefit that every family will cherish.

4. Safe replacement - Similar light performance as conventional bulbs
What does "safe replacement" mean?
As these light beam photos show, some LED bulbs on the market appear bright, but once installed, they do not produce a well-focused safe beam of light. As a result, their light output is poor and potentially dangerous, as you might not be noticed – hence they will fail in car inspections.
But, the light output of our Vision LED bulbs is not only as bright as your existing conventional bulbs, but also creates a similar well-focused light beam on the road. By choosing Vision LED, you gain the benefits of long lasting LEDs AND excellent light performance - making Vision LED a safe replacement.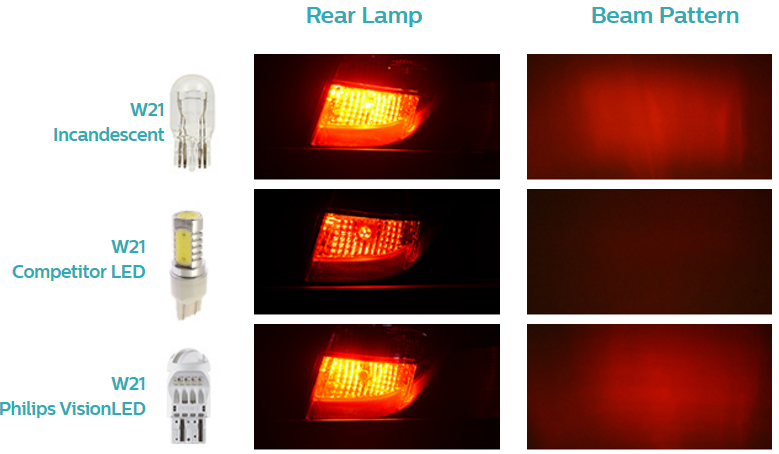 For purchase more than 10 units, drop us message here
Customer comments
| Author/Date | Rating | Comment |
| --- | --- | --- |